April 1, 2012
Kansas City Kansas Public Schools Invests in CNG Buses
Our primary motivation for doing this was fuel costs. They're high, and getting higher, and we're facing budget cuts. Also, CNG is a clean fuel and benefits the environment.
Kansas City, Kansas Public Schools (KCKPS) is powering its buses in a whole new way, and it's saving thousands of dollars in the process. KCKPS received 47 new compressed natural gas (CNG) school buses in March 2011, with help from a $3.6 million Recovery Act award managed by Kansas City Regional Clean Cities Coalition staff at the nonprofit Metropolitan Energy Center (MEC). Not only is this the biggest CNG deployment to date by a Midwestern school district, but the project has spurred interest in CNG use by other fleets in Kansas and Missouri.
KCKPS's fleet includes about 120 buses. "Our primary motivation for doing this was fuel costs. They're high, and getting higher, and we're facing budget cuts," said KCKPS Director of Transportation George Taylor. "Also, CNG is a clean fuel and benefits the environment." The 47 replacement buses are Thomas Type D Saf-T-Liners, a transit-style bus with a CNG engine. Two of the buses are outfitted as activity buses and can be used for field trips. During the summer months, with fewer students to transport, KCKPS is able to run the CNG buses almost exclusively, saving even more on fuel costs than originally projected.
The Process
Securing funding for the project wasn't easy. Taylor spent about three years applying for grants, refining his applications and proposals with each attempt, before his efforts paid off. Then in the spring of 2009, with the backing of the school board, he pursued Recovery Act funding to help transform his aging bus fleet. The district signed an agreement with MEC to be part of the Midwest Region Alternative Fuels Project, funded by the Recovery Act through the U.S. Department of Energy. Through the MEC collaboration, the district was awarded $3.6 million, which it matched with about $4 million of its own funds to acquire 47 new Type D CNG buses and four new Type A hybrid diesel-electric buses and to convert three Type A buses to CNG operation. Project funds also covered a new fueling station for up to 70 CNG school buses, one mobile CNG refueling unit, and CNG safety modifications to the district's maintenance building.
Because this was such a large project and would fundamentally alter the district's pupil transportation operations, KCKPS hired a consultant to write a request for proposals (RFP) for design and construction of a CNG fueling station that would include time-fill dispensers for the buses and fast-fill dispensers for public access. After receiving only one response, KCKPS simplified the RFP by eliminating the fast-fill option and provided more detail about the district's fleet operations, including the number of vehicles the station would serve and their fueling windows. The second attempt yielded three responses and an award.
Finding Success
Wyandotte County, where KCKPS is located, had not considered any permits for CNG projects in the past. Taylor was careful to invite fire and safety officials to visit the site and talk with the station engineer during design. As a result, safety officials were the first to sign off on the permit application. Even so, after changes by other permitting officials, the process took 30 days longer than anticipated and, together with the harsh winter, pushed the completion date to spring of 2011.
Because pupil transportation is a primary service of KCKPS, the fueling station was designed with redundant compression to avoid interruptions in fueling. Redundant fueling in the event of an emergency can also be provided by a public CNG station in nearby Overland Park, Kansas, or at one of the City of Kansas City, Missouri's private fast-fill stations.
The first CNG bus was delivered in September 2010 and was used for driver and technician training as well as public demonstrations at fall fairs and festivals. The buses come equipped with electric engine heaters to alleviate cold-start issues during the coldest winter days. So, an external electrical source for the heaters needed to be added to each fueling post. The last piece of the puzzle was to install natural gas safety features in the maintenance building, including sensors, alarms, exhaust fans, and vents.
The fueling station is used exclusively by the buses, so it was designed as a time-fill system with no storage. It consists of 35 dual-hose time-fill posts so that it can fuel up to 70 school buses simultaneously overnight, leaving KCKPS room for expansion of its CNG fleet. The compression is high enough that during the day, when most of the buses are out, a single vehicle hooked up to a single post can be filled as quickly as at a fast-fill station, giving KCKPS some flexibility to convert a few service vehicles to CNG as well. The district has opted to convert one vehicle so far, a mobile CNG refueling unit mounted on a pickup truck, which can provide an emergency fill.
The Results
This KCKPS project was made possible by a convergence of several factors: federal funding of approximately $3.6 million, an aging school bus fleet translating to timely project readiness, manufacturer and fuel provider tax credits reducing the costs of buses and fuel, and a school board both committed to community stewardship and willing to take a calculated risk with one of the district's central services.
The district is now saving about $20,000 to $30,000 in monthly fuel costs. During the first 10 months of operation, the new CNG buses together displaced about 15,000 gallons of diesel fuel per month. With thoughtful route planning, KCKPS can use the CNG buses on high-mileage routes, thereby optimizing the district's investment.
Sharing the News
The scope and geographic location of this project has generated interest by other fleets and CNG service and manufacturing vendors. With the leadership of longtime KC Clean Cities stakeholder Kansas Gas Service, the coalition organized or presented at more than 10 meetings and events. Taylor, who is set to retire at the end of the 2012 school year, has also spread the word. And if there's one thing he can stress to others about looking for help to deploy alternative fuels, it is this: "Get out there and start working. Be ready for rejection, but by doing that, you put yourself in the position for success."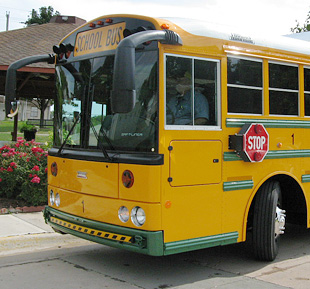 Fleet Type: School buses
Fuel: Compressed natural gas
Number of CNG Buses in Fleet: 47, with three CNG conversions soon to be deployed
Fuel Cost Savings: $20,000 to $30,000 per month
Petroleum Displacement: 15,000 gallons of diesel fuel per month
Infrastructure: New CNG station with 35 dual-hose time-fill posts
Motivations: Air quality, energy security, cost savings