April 1, 2011
Tucson Well on Its Way to Go Electric
Unwavering support from Tucson Electric Power has been key to the impressive momentum behind the deployment of plug-in vehicle charging infrastructure in southern Arizona.
Plug-in electric vehicles (PEVs) from major auto manufacturers are just now hitting the market, and southern Arizona is welcoming them with open arms.
A determined and enthusiastic group of Tucson Clean Cities (TCC) stakeholders spent the past year laying the groundwork for the deployment of PEVs. The work kicked off in 2009 with a PEV infrastructure workshop. The event's 150 attendees included representatives from Tucson Electric Power (the local utility company), PEV manufacturers, charging equipment manufacturers and installers, government planning departments, and other stakeholders. The overarching goal of the workshop was to develop a plan that would thoroughly prepare the Tucson area for the arrival of PEVs.
Those early preparations caught the eye of PEV charging equipment developer ECOtality, and in March 2009, TCC signed agreements with Nissan and ECOtality, making Tucson one of the official launch markets for the Nissan Leaf. Shortly thereafter, Ford selected Tucson as a launch city for its all-electric Focus.
Since the kick-off workshop, a growing number of partners and stakeholders has been waging a nonstop, two-pronged campaign of education and infrastructure planning. TCC hopes the effort will result in the deployment of 500 PEVs, 250 Level 2 charging stations, and five DC fast chargers within the next two years. So far, all 255 stations have been plotted, and six are already installed. Pima County government, the Town of Oro Valley, and the University of Arizona are leading the pack, each with a strong commitment to PEV success.
Outreach to the general public and major employers is a cornerstone of TCC's efforts to take transportation electric in Tucson. A steady stream of great media coverage is creating a palpable buzz throughout the area, and TCC takes every opportunity to make presentations to the chamber of commerce, Rotary Clubs, and other community groups. The coalition conducts two or three outreach events each month, appears on the "Mrs. Green Goes Mainstream" radio show every other week, offers community workshops, writes op-ed pieces for area newspapers, and organizes press events around all PEV deployment developments, such as the installation of new charging equipment.
Unwavering support from Tucson Electric Power has been key to the impressive momentum behind the deployment of PEV infrastructure. The utility works hand in hand with TCC on everything from broadcasting the alternative fuels message to working out technical details and educating elected officials and community planners.
Looking ahead, TCC hopes to expand its PEV work beyond Tucson to the major transportation corridors that lead to Phoenix and San Diego. And the coalition is also eager to share its experiences with other Clean Cities coalitions seeking to deploy PEVs in their own communities.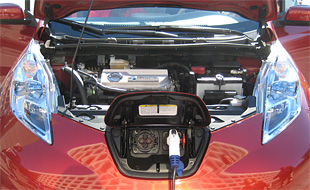 Fuel: Electricity
Infrastructure: 255 public charging stations
Vehicles: Anticipated deployment of 500 plug-in vehicles
Motivation: Energy security, emissions reduction