Sept. 14, 2012
Partnerships Spark Biodiesel Success for Essential Baking Company
The Essential Baking Company's success with biodiesel is the result of close collaboration among the fleet, leasing company, and fuel provider. This highlights the benefit of a 'coalition' approach to alternative fuel adoption. All three entities are key ingredients in the ongoing success of the project.
The Essential Baking Company's commitment to sustainability is apparent in all aspects of its operations, from baking to distribution. For nearly five years, the company has delivered its certified organic baked goods to grocers, cafes, restaurants, schools, and hospitals in the Seattle area with a fleet of cargo vans that run on biodiesel. Through close partnerships and agreements with its fuel provider and leasing company, Essential Baking has overcome technical obstacles and successfully reduced its greenhouse gas (GHG) emissions.
Bringing the Key Players to the Table
Several years ago, Essential Baking owned the fleet of delivery vehicles it used to transport baked goods throughout the Seattle area. In 2006, the company began leasing its vehicles in order to reduce vehicle maintenance costs and other fleet-related expenses. During this time of transition, Essential Baking considered several options for alternative fuels, with the goal of reducing emissions and extending the commitment to sustainability into fleet operations. Biodiesel emerged as the best option because it is a locally produced renewable fuel. In addition, the company found it could use a blend of 99% biodiesel and 1% petroleum diesel (B99) in most of its leased diesel vans without compromising the warranties or modifying the vehicles. Furthermore, if the cost of biodiesel became prohibitive, the vans could easily switch back to using conventional diesel or a lower biodiesel blend until the price came down. Upon further investigation, Essential Baking discovered that biodiesel was already used widely in the Seattle area, so fueling infrastructure and service technicians familiar with the fuel were readily available.
The fleet initially worked with a local biodiesel supplier to fuel its vehicles. Unfortunately, it quickly had to dis-continue biodiesel use because of fuel quality issues that resulted in increased vehicle maintenance. So Steve Kavanaugh, the distribution manager responsible for fleet operations at the time, began exploring other options and looking for ways to ensure fuel quality and vehicle performance. He brought to the table Propel Fuels, a California-based fuel provider with a strong network in Washington, and International Leasing, the bakery's vehicle leasing company, to discuss challenges and brainstorm solutions. Propel demonstrated its commitment to fuel quality through regular fuel monitoring and educated International Leasing on the benefits of biodiesel. As a result of these discussions, Essential Baking and Propel signed a contract stating that Propel would guarantee the quality of its fuel, and in turn, Essential Baking would only use Propel biodiesel in its vehicles. The agreement formed the foundation of a strong relationship among the three companies, allowing them to address issues and solve problems collaboratively over the past several years.
A Long-Term Commitment to Biodiesel
Justin Christianson, who took over as distribution manager in July 2011, has continued the biodiesel program at Essential Baking. As of June 2012, the company ran 11 long-term lease cargo vans—nine 2005 Dodge Sprinters and two 2008 Sprinters—on various biodiesel blends. All of the 2005 models fuel with B99, except between December and March, when Propel prepares a B75 blend to avoid fuel gelling in cold temperatures. Essential Baking temporarily transitions to B20 in these vehicles during times when the price difference between diesel fuel and biodiesel is too significant to justify a high-level blend. The two remaining vans have advanced exhaust control systems, so they operate on B20 at all times to avoid warranty issues. (The potential impacts of higher-level blends on these systems has yet to be fully studied.)
The vans refuel at Propel's public fueling stations, three of which are just a short drive from the Essential Baking fleet facility. The company takes advantage of fuel discounts through Propel's Volume Rebate program and is able to track its biodiesel use at the pump through the fuel provider's CleanDrive program. As a result, Essential Baking has easy access to online reports that detail the GHG reductions and petroleum displacement that result from its biodiesel use. As of June 2012, Essential Baking had displaced nearly 400 barrels of oil and reduced its GHG emissions by more than 320,000 pounds of CO2 equivalent. In addition to these environmental and energy benefits, Essential Baking drivers have been particularly pleased with the reduced tailpipe emissions at the loading dock, where exhaust from diesel vehicle starts can cause an unpleasant odor and eye irritation.
The Importance of a Strong Biodiesel Network
Kavanaugh attributes the fleet's success with biodiesel to partnerships and the strong biodiesel network in the Seattle area. "For fleets, the ability to use biodiesel invariably comes down to whether there is a good fuel supplier in the region and whether the support network exists." Western Washington Clean Cities (WWCC) has worked with biofuel suppliers, fleets, and others in the area to build and maintain this network. Essential Baking has participated in coalition events, and Propel is an active member of WWCC. Propel District Operations Manager Jake Millan explained, "WWCC has provided us with a host of opportunities, and we truly enjoy working with its staff. We look forward to seeing the coalition's continued good work to ensure there is strong support for biofuels in western Washington."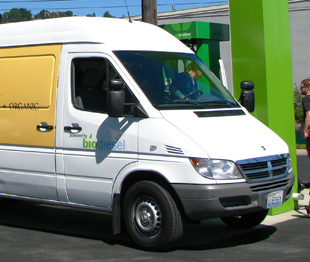 Fleet Type: Delivery cargo vans
Fuel: Biodiesel (B20 to B99)
Number of Vehicles: 11 leased cargo vans
Infrastructure: Propel public biodiesel stations
Motivations: Air quality, cost savings, greenhouse gas emissions reductions
Petroleum Displaced: 400 barrels of oil as of June 2012