May 16, 2014
Propane Vans Keep Kansas City Transportation Company Rolling
We provided propane workshops, including technician training to help transition Renzenberger to the new fuel.
Understanding cost-effective transportation comes naturally to Renzenberger, Inc., in Kansas City, Missouri. The company provides vans for railroad crews who help keep freight trains rolling. So when fuel prices spiked in 2008, Renzenberger started looking at alternatives to gasoline. The company's goal was to reduce costs and avoid ever-changing gasoline prices.
The company began researching alternative fuels and found Clean Cities to be a good resource. Renzenberger Fleet Manager Thomas Wurdack attended a Kansas City Regional Clean Cities-sponsored propane workshop in 2009, where he met Bill Raynor, a local Ford dealer and board member of the coalition. They began discussing options for propane in Renzenberger's Kansas City fleet.
In 2011, a Renzenberger official attended the 2011 Clean Cities Stakeholder Summit in Indianapolis, Indiana. The meeting provided a forum for collaboration among the U.S. Department of Energy, Clean Cities coordinators, and national and local stakeholders. Together, they discussed short- and long-term opportunities, challenges, and strategies for wider adoption of alternative fuels, advanced vehicle technologies, and other petroleum-use reduction strategies. As a result, the company decided that propane was the best fuel to meet its specific needs.
Renzenberger deployed its first light-duty propane van in November 2011. The company's Kansas City fleet has since grown to 40 propane vans. The company also has 60 propane vans in California, with plans to expand to 110. "We are maintaining a nice price differential overall" Wurdack said.
As is the case with most transitions, there were challenges. In particular, the company had concerns about the range of vans and a lack of public fueling infrastructure. Renzenberger initially decided to deploy bi-fuel vans in Kansas City to address this range anxiety. More recently, the company has been exploring dedicated-propane vehicles in Kansas City to ensure fuel cost savings.
Kansas City Regional Clean Cities played a role, helping the company in its move to propane vehicles. "We provided propane workshops, including technician training to help transition Renzenberger to the new fuel," Coordinator Kelly Gilbert said. "We're very happy to see Renzenberger continue to deploy new propane vans that save money and reduce petroleum dependence. That is what Clean Cities is all about."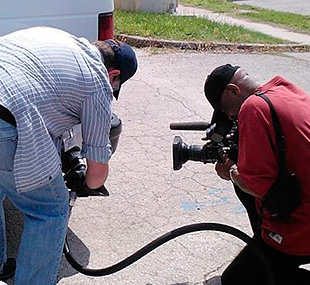 Fuel: Propane
Vehicles: 40 propane vans
Strategies: Explored alternative fuel technologies and petroleum-use reduction strategies, then deployed bi-fuel vans; currently exploring dedicated-propane vehicles