Maps and Data - Average Retail Regular Gasoline Fuel Price in the U.S.
Find maps and charts showing transportation data and trends related to alternative fuels and vehicles.
OR
Vehicles: AFVs and HEVs

BioFuels Atlas

BioFuels Atlas is an interactive map for comparing biomass feedstocks and biofuels by location. This tool helps users select from and apply biomass data layers to a map, as well as query and download biofuels and feedstock data. The state zoom function summarizes state energy use and infrastructure for traditional and bioenergy power, fuels, and resources. The tool also calculates the biofuels potential for a given area. BioFuels Atlas was developed by the National Renewable Energy Laboratory with funding from the DOE Biomass Program.

View Image

TransAtlas

TransAtlas is an interactive map that uses a Google Maps interface to display: Existing and planned alternative fueling stations Alternative fuel production facilities Light-duty vehicle density Roads and political boundaries Users can customize the map display and print and query the underlying data. TransAtlas is part of a suite of geographic analysis tools for renewable energy developed at the National Renewable Energy Laboratory.

View Image

Vehicles: Fuel Consumption and Efficiency
Average Retail Regular Gasoline Fuel Price in the U.S.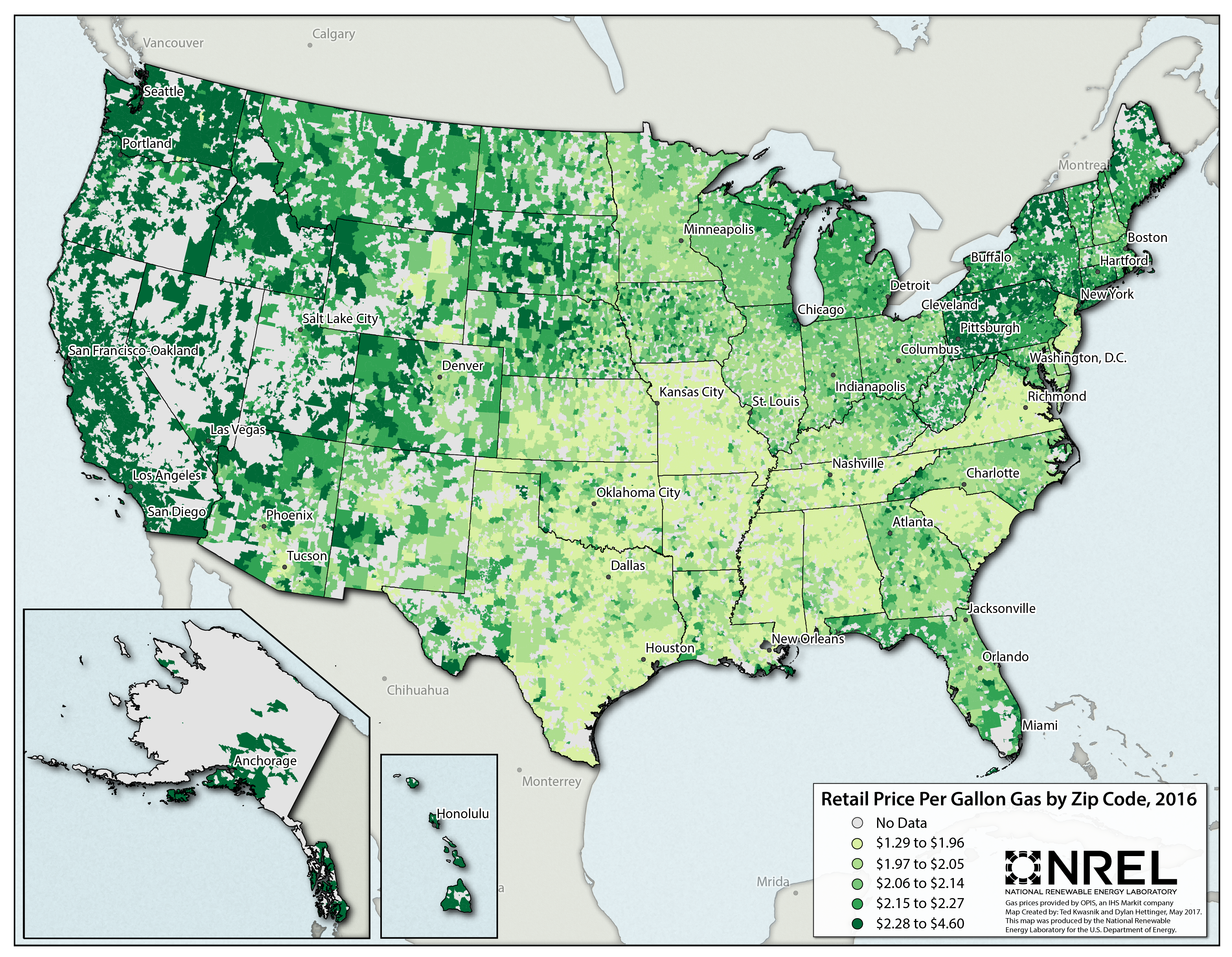 Regular gasoline prices are largely influenced by distribution costs, state and local taxes, and the profit margin that a retailer can earn. Both transportation costs and the profit margin are greater in remote mountainous or insular areas. Therefore, it stands to reason that areas with no data would have the most expensive gasoline of all. State taxes can be viewed at
Tax Foundation
. The resulting gasoline prices are least expensive on the Gulf Coast and rise commensurately with distance from the Gulf.
Print