Sept. 14, 2012
Plug-In Vehicles to Harness Renewable Energy in Hawaii
We are really a test bed for EVs and renewable electricity.
Hawaii is saying "Aloha" to electric vehicles as part of an effort to shed the dubious distinction of being the most petroleum-dependent state in the country. By the end of this year, the state and its clean-energy partners expect to have more than 1,000 plug-in vehicles on the road and 200 public charging units at more than 80 locations.
Imported oil currently supplies about 90% of Hawaii's energy, and gasoline prices range from $4 to $5 per gallon. The state has partnered with the U.S. Department of Energy through the Hawaii Clean Energy Initiative to reach a goal of 70% clean energy by 2030. Deployment of plug-in vehicles represents a major strategy toward meeting the goal, since these vehicles are especially well suited to take advantage of renewable sources of electricity like wind and solar, which have higher variability than the fossil fuels they're replacing.
"We are really a test bed for EVs and renewable electricity," said Margaret Larson, Vehicle Specialist for the Hawaii State Energy Office and Co-Coordinator for Honolulu Clean Cities (HCC).
HCC is playing an important role in Hawaii's plug-in deployment, as Larson taps into Clean Cities' national network of coordinators to help find solutions to local challenges. She has also made great use of the Clean Cities Technical Response Service when searching for ways to overcome deployment barriers. "Being able to turn to the Clean Cities program has been so valuable. The Technical Response Service is my best friend," Larson said.
High on Larson's long list of deployment activities is participation in a Clean Cities Electric Vehicle Community Readiness Project on Maui. Through the project, the University of Hawaii Maui College is developing a plan for the island's implementation of electric vehicles. HCC is interviewing the first wave of charging station hosts at commercial properties to glean early lessons learned. Once complete, the Maui plan will be replicated and adapted for the other islands.
One of Clean Cities' National Clean Fleets Partners has gotten in on the action as well: Enterprise Rent-A-Car has 30 electric vehicles in its Hawaii rental fleet. "It's been great that they've led by example. Tourism is our No. 1 industry, so having rental agencies purchase electric vehicles is key to their adoption," Larson said.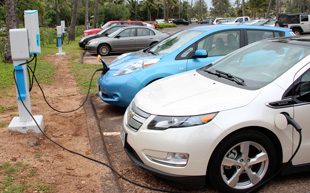 Goal: 70% clean energy by 2030
Number of Plug-In Vehicles: 1,000 on the road by the end of 2012
Motivations: Energy independence, environmental protection