April 14, 2017
Oregon Celebrates 1,400 Miles of Electric Highways
Electric vehicle drivers in the Pacific Northwest can feel free to travel the open road in Oregon. In 2012, stakeholders from the Columbia-Willamette Clean Cities Coalition completed the installation of 10 electric vehicle (EV) charging stations along more than 200 miles of Interstate 5. Each of the 10 locations offers DC fast charging and Level 2 charging, making the stations usable by all plug-in electric vehicles. By 2014, through grants awarded by U.S. Department of Energy and the U.S. Department of Transportation, the Oregon Department of Transportation (ODOT) installed another 34 stations in the state, covering more than 1,400 miles of highway along Interstate 5, Interstate 84, US 101, and other major travel corridors.
These stations have helped to create a corridor that now enables drivers to travel from Vancouver, British Columbia, to California, with charging stations located every 25 to 50 miles. In 2016, the California Energy Commission made several awards to complete the network, allowing electric vehicle travel from British Columbia to Baja, California.
The project in Oregon was initially funded by a $915,000 American Recovery and Reinvestment Act (ARRA) award to ODOT through the Oregon Department of Energy, where Rick Wallace serves as a senior policy analyst. Project leaders are collaborating with their counterparts in Washington, British Columbia, and California to learn from one another's experiences and identify opportunities for collaboration on technical matters and outreach.
"Washington State is a key partner of ours. Our equipment is from the same manufacturer, we built the logo together, and it's all going to look uniform to the driver," Wallace said.
Also critical to the project's success was finding appropriate sites and taking the time to identify enthusiastic property owners. Requirements for the sites included the ability to be open at least 17 hours per day, proximity to electrical power lines, sufficient parking space, and restroom availability. The site hosts represent a wide variety of property owners, including cities, state agencies, gas station owners, lodging businesses, restaurants, and state parks.
"Getting all the host-site agreements in place has taken some time, partly because of the diversity of needs among the property owners," said Ashley Horvat, project manager for the Oregon Department of Transportation. "But it's been great working with all of them-they're very excited."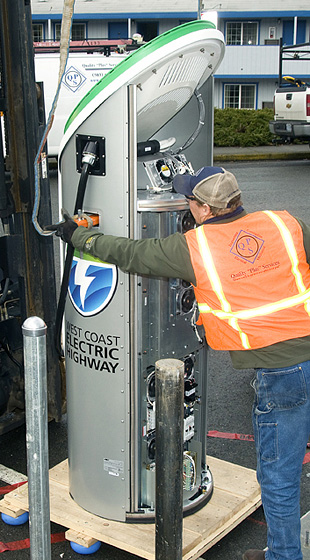 Fuel: Electricity
Number of Electric Charging Stations: 44
Motivation: Air quality, fuel savings