Sept. 14, 2012
Idle Reduction Programs at Tennessee Schools
We see idle reduction as a very important part of the overall Clean Cities mission.
After the East Tennessee Clean Fuels Coalition (ETCF) launched its Idle-Free Tennessee program at four elementary schools in the 2010-2011 school year, the coalition got a simple lesson in addition. Seven more Knox County schools—including a high school and two preschools—eagerly sought to join the program, which is designed to reduce unnecessary vehicle idling at schools.
"We had a really great response. After the first schools got started, the rest independently came to me and said 'We want this for our school,'" ETCF Project Facilitator Kristy Keel said.
The program launched with a $1,650 grant from the East Tennessee Children's Hospital to cover three signs and posts at each site. School bus drivers and parents soon joined the cause. "There are many benefits to this project. Most significantly, this is a chance for families to establish a habit that directly benefits the health of children, as well as adults. In addition, this will help to improve our local air quality and reduce oil consumption," Keel said.
But the impact is being felt inside the classroom too. Drawing upon research from the American Lung Association, the U.S. Environmental Protection Agency, and others, Keel has developed a Q&A on the coalition website, along with curriculum materials to help teachers explain the issues surrounding cleaner air. She has also spread the word at parents' nights.
The program is drawing interest, in part because the area has air quality challenges. "We're in a valley beside the Appalachian Mountains, which essentially means that pollutants get trapped here. So, geographically, we're at a disadvantage. We also have a lot of vehicles on the road and a lot of man-made pollution, which makes the situation worse," Keel said.
Knoxville's City Sustainability Coordinator Jake Tisinger said that Knoxville has made great strides in improving its air quality, and the Idle-Free Tennessee project continues that progress.
Now Keel is hoping to renew the grant, and she is optimistic about adding more schools this school year. "We see idle reduction as a very important part of the overall Clean Cities mission," Keel said. "It may not add up to the equivalent of a huge diesel fleet switching to biodiesel, but this is very important for public health and education, and we're really proud of this program."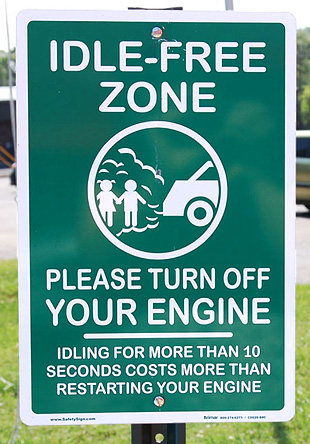 Strategy: Idle reduction
Tactics: Signage and eduction
Number of schools involved: 11
Motivations: Air quality, petroleum savings, child health