Aug. 13, 2018
Republic Services Reduces Waste with CNG Vehicles
We started with 12 CNG trucks and, as of 2018, had 128.
Republic Services is one of the largest waste and recycling companies in the country, completing more than 5 million pick-ups each day for its 14 million customers. Since the company's founding in 1998, heavy-duty diesel trucks performed the lion's share of the work. But in 2009, that began to change, when Treasure Valley Clean Cities Coordinator Beth Baird knocked on the door of Republic Services' Boise, Idaho, division.
Baird alerted the company to a funding opportunity available through the American Recovery and Reinvestment Act (ARRA) that could catalyze the Boise fleet's transition from diesel fuel to compressed natural gas (CNG). She helped Republic Services develop a proposal for a project that would include the acquisition of 28 CNG refuse and recycling trucks and the development of CNG fueling stations and vehicle maintenance facilities.
Baird and Republic Services teamed up to research and select vehicle manufacturers and fuel providers. Baird helped facilitate the legal legwork that led to the Idaho Public Utilities Commission's issuance of a rule allowing the sale of natural gas as a vehicle fuel. She also helped arrange training for vehicle maintenance technicians and formed a team to develop a campaign to educate community members and other fleets about the benefits of CNG. "We wouldn't have known about the funding, and we may have gone down this road much more slowly if we hadn't had a local person here as an advocate," said Republic Services Business Development Manager Rachele Klein.
The company's private time-fill CNG station in Boise was completed in June 2009, and its first CNG trucks started rolling several months later. A public station at that the same location, as well as a public and private station about 13 miles away in Nampa, Three additional stations opened in 2011, including two with public access. The project effectively created a ripple effect of CNG deployment in Idaho and beyond. The fleet started with "We started with 12 CNG trucks and, as of 2018, had 128.
"The model that stemmed from this partnership was so successful--from a business perspective and an environmental perspective--that we flipped to CNG in Las Vegas; Santa Barbara, California; and Belleview, Washington," Klein said.
In the Boise area, about a half dozen other fleets using the CNG stations developed as part of the Republic Services project. Overall CNG use by these fleets has increased each year since the stations were installed. One of those is Valley Regional Transit (VRT), which was on the verge of eliminating its commuter route between Canyon County and Ada County because of rising diesel fuel prices. Fortunately, the availability of new CNG fueling infrastructure allowed VRT to cost-effectively continue the service using CNG buses. As of 2018, more than 90% of the 73-vehicle VRT bus fleet operated on CNG.
In 2014, Republic Services joined the National Clean Fleets Partnership, a U.S. Department of Energy initiative to provide fleets with resources, expertise, and support to incorporate alternative fuels and fuel-saving measures into their operations. The company has continued its commitment to natural gas, with more than 2,500 CNG vehicles and 38 natural gas fueling stations nationwide. As of 2017, 19% of the Republic Services fleet was powered by natural gas, including renewable natural gas in some locations .
"Republic Services' shift to CNG was a huge step in advancing the use of natural gas as a vehicle fuel in Idaho," Baird said. "It has been a great partner in this effort and strong advocate for the fuel, both in our region and across the country."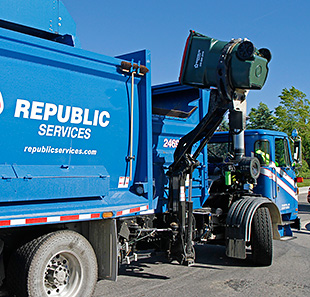 Fleet Type: Refuse haulers
Fuel: Compressed natural gas
Number of Vehicles: 128
Infrastructure: Two CNG fueling locations, each with both private and public stations
Motivations: Cost savings, air quality, energy security