Jan. 8, 2021
The Heat Is on in St. Louis Buses
It has been a blessing to the school district. It really helps the kids. Taking a cold school bus is tough.
Midwestern winters are notoriously frigid, which can pose challenges for the region's school bus fleets. Students don't want to board chilly vehicles, and the stakes are even higher for special needs students, some of whom have conditions such as asthma that the cold can aggravate.
In 2009, St. Louis Clean Cities Executive Director Kevin Herdler began working on a solution when he helped secure a Missouri Air Pollution Program clean diesel grant to the Special School District of St. Louis County (SSD). The EPA grant allowed SSD to install Espar fuel-operated heaters on 21 buses. The heaters use a small amount of diesel fuel to warm the coolant lines of the vehicles while the bus engine remains off. "It is a great option for a school district," Herdler said.
The heaters activate automatically when temperatures drop below 60 degrees, so technicians don't need to start and then idle the bus engines on cold mornings and afternoons. By the time drivers pick up their first students, the buses are comfortable. The heaters are programmable, so they don't run on weekends or holidays unless needed.
In addition to reducing emissions, the heaters save at least 3 gallons of diesel fuel per bus per day. The initial success paved the way for Herdler to continue working with the state and SSD, adding more heaters in 2010 and 2011 at a cost of $1,364 per heater. By the end of 2011, 116 buses—virtually the entire SSD fleet—had been equipped. Today, as SSD replaces aging vehicles, it continues installing heaters on all new buses.
Other fleet managers have taken notice, and Herdler said the program has been repeated in about 10 area school districts with over 600 buses. The results have been particularly positive for SSD and its students. "It has been a blessing to the school district," Herdler said in 2011. "It really helps the kids. Taking a cold school bus is tough."
Long-haul fleets in the area are also beginning to realize the benefits of fuel-operated heaters. St. Louis Clean Cities has since worked with two area fleets to install heaters on over 350 long-haul trucks—adding comfort to the bunk area of the truck when the temperature begins to drop.
This case study was originally published in May 2013 and updated in January 2021.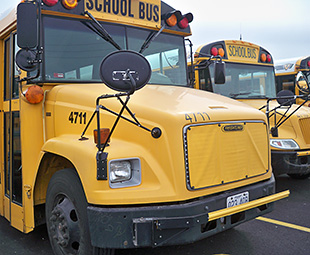 Fleet Type: School bus
Technology: Fuel-operated heaters
Number of Vehicles: 615
Motivations: Fuel savings, cost savings, emissions reductions