Oct. 17, 2013
Smith Dairy Deploys Natural Gas Vehicles and Fueling Infrastructure in the Midwest
To Smith Dairy, CNG is an advanced fuel—it is moving us away from petroleum. We are planning to be diesel-independent by 2030, and CNG is only one part of that.
A transition to alternative fuels requires careful consideration of many factors and options. Ohio-based Smith Dairy Trucking recently undertook just such a switch, motivated primarily by concern for the environment, but also by rising diesel prices and tightening emissions regulations. Fleet Maintenance Manager Chuck Diehl began the process by working with others both inside and outside the company to explore the many options available. Ultimately, the fleet settled on natural gas, opting to deploy natural gas vehicles (NGVs) and to build and operate a publicly accessible compressed natural gas (CNG) fueling station to support its own vehicles and the greater community.
Smith Dairy Trucking's fleet is made up of over 400 vehicles—primarily Class 8 refrigerated trucks and trailers, which are responsible for local and national product distribution for Smith Dairy in Orrville, Ohio; Wayne Dairy in Richmond, Indiana; and Pacific Valley Dairy in Pacific, Missouri. With a focus on economics, energy security, and emissions reductions, the company has a goal to fully transition away from conventional diesel fuel by 2030. In the summer of 2012, Smith Dairy Trucking took its first major step toward that goal, unveiling a publicly accessible CNG fueling facility in Orrville and deploying six CNG tractors out of its Orrville Distribution Center. After realizing significant success in the project's first year, Smith Dairy Trucking plans to continue to invest in CNG vehicles and infrastructure.
Weighing the Options
Smith Dairy Trucking has a long history of being conscientious about fuel use and identifying opportunities for improvement. Periodic fleet analyses have helped the company implement strategies for improving vehicle efficiency, including weight reductions, active route planning, trailer skirts, and wide-base tires.
After taking those steps, the company looked to alternative fuels. "We attacked most of the low-hanging fruit, and then we decided to go the CNG route," Diehl said. Smith Dairy Trucking calculated its overall carbon footprint and saw that switching just a small portion of the fleet to CNG could result in significant emissions reductions. Using Argonne National Laboratory's Greenhouse Gases, Regulated Emissions, and Energy Use in Transportation (GREET) Fleet Footprint Calculator, Smith Dairy determined that by replacing six diesel trucks with CNG trucks, it could reduce its greenhouse gas (GHG) emissions by 64 short tons and save nearly 600 barrels of petroleum annually. One year later, Smith Dairy Trucking has exceeded its original estimates for emissions reductions and petroleum savings.
Overcoming Barriers
In its deployment of CNG, Smith Dairy Trucking overcame barriers along the away, including lack of familiarity with the fuel, lack of available fueling infrastructure, and the need to introduce maintenance technicians to new technologies.
The company addressed its lack of in-house knowledge by engaging with fleet managers who had experience deploying NGVs. They allowed Smith Dairy Trucking to observe and learn from their fleet operations, a process Diehl called "refreshing and exciting." In the fall of 2011, Smith Dairy Trucking held a workshop that included vehicle and infrastructure companies, local utilities, fleet managers and technicians, Clean Fuels Ohio, educational institutions, the local fire department, representatives from the City of Orrville, and Smith Dairy's owners, all of whom shared information and learned from one another. The meeting included an NGV ride and drive, as well as discussions about return on investment, vehicle conversions, and public safety and awareness. Following the deployment of NGVs, Smith Dairy Trucking continues to host community events at its location, including Orrville Area Chamber of Commerce meetings. The company has found these events spur discussions around the attractive price of CNG and opportunities for NGV deployment by other area fleets.
Lack of publicly accessible CNG infrastructure near the Smith Dairy headquarters in Orrville was another major obstacle. So in April 2012, Smith Dairy Trucking broke ground on an on-site CNG fueling station that serves its fleet as well as the public. During the planning process, it partnered with the local fire department and engaged other public CNG fueling station operators to ensure the infrastructure would meet relevant codes and regulations. At the groundbreaking and station-opening events, Smith Dairy Trucking again brought together industry representatives and members of the community to participate, share ideas, and celebrate.
Smith Dairy Trucking has had great success with the CNG station, which opened to the public in August 2012. Within four months, public demand for the fuel outpaced the fleet's own fuel needs. Over 15 fleets, as well as several individual drivers, use the station frequently, resulting in about 13,000 gasoline gallon equivalents (GGE) of fuel dispensed per month. Diehl attributes this success to ongoing educational workshops for fleets, attendance at national and regional fleet events, listing their location in natural gas station locators, and collaboration through Clean Fuels Ohio. Smith Dairy sets its CNG prices for other fleets to be attractive to them but still profitable for the station. Diehl anticipates a five-year payback period on the station. As an added benefit, the station has given Smith Dairy Trucking the opportunity to interact with other fleets, learn from others' experiences, and stay engaged in the industry.
Early on, Smith Dairy Trucking learned that its maintenance technicians and drivers would need training to work with NGVs and the associated infrastructure. The company provided its technicians with safety, use, and maintenance training that included hands-on education by the infrastructure and vehicle manufacturers and other local fleets. The fleet also educated drivers on how to use the new CNG station and operate the vehicles effectively. The drivers learned quickly and are enjoy driving the CNG trucks, according to Diehl. Smith Dairy Trucking is currently updating its vehicle maintenance facility to support the NGVs.
Partnering for Support
Smith Dairy Trucking's CNG project is a significant undertaking. While the first phase of the project was financed without outside support, Smith Dairy did receive non-financial support to accomplish their goals. "We believe CNG is the right choice for our company, so we were willing to make that investment, as huge as it was," Diehl said.
To accomplish their goals, Diehl and his team have received support from Clean Fuels Ohio (CFO), one of nearly 100 Clean Cities coalitions across the country working with stakeholders to deploy alternative fuels and advanced vehicles in their communities. As a CFO Silver Member, Smith Dairy Trucking worked with CFO on a grant application for future projects and attends coalition meetings and events. The CFO staff has provided individual guidance and assistance to the fleet. Smith Dairy is also working with the LNE Group, an experienced grant writing firm, to apply for an additional grant that will accelerate the company's deployment of CNG vehicles.
Learning Lessons and Looking Ahead
Smith Dairy Trucking found that its focus on education and information has been extremely important to ensuring that stakeholders and decision makers understand the company's investment in CNG. Diehl has the backing of Smith Dairy's owners, the Schmid family, who is committed to protecting the environment. The owners have been supportive of the fleet's switch to CNG and were excited to offer CNG to the public. Smith Dairy Trucking benefited from case studies focusing on other fleet experiences, as well as direct discussions with other fleet managers, suppliers, and vendors. According to Diehl, for Smith Dairy Trucking, "It has been all about relationships and the people we work with. This is not something you can do on your own."
Smith Dairy Trucking has become acquainted with the challenges and benefits of maintaining a public fueling station. Specifically, public station operators must address questions and concerns from the public. In addition, other fleets rely on the station, so Smith Dairy Trucking must take their needs and operations into account when scheduling routine maintenance and repairs. Diehl said that "being open to the public raises the bar several notches." Ultimately, however, the benefits of industry engagement and higher throughput have outweighed any growing pains.
"I have never been involved in something in the dairy or trucking business that has created so much excitement and energy. It is a game changer for us," Diehl said. Smith Dairy Trucking plans to continue to expand its CNG fleet in the future by adding several more dedicated and dual-fuel CNG trucks to reach its goal of diesel fuel independence. This expansion may also include another public CNG station at the company's Richmond, Indiana, trucking distribution center. The fleet has been working closely with Greater Indiana Clean Cities, the City of Richmond, and other local fleets on this effort. And the company isn't stopping with CNG when it comes to alternative fuels deployment. Smith Dairy Trucking is also considering other fuels, such as propane and electricity.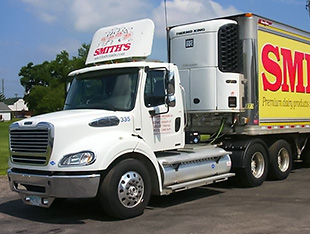 Fleet Type: Class 8 refrigerated delivery trucks
Fuel: Compressed natural gas
Fueling Infrastructure: Publicly accessible CNG station
Motivations: Environmental protection, fuel costs
Greenhouse Gas Emissions Averted: More than 64 tons per year