Oct. 23, 2013
Diversity of Fuels Supports Sustainability in Fort Collins
We don't believe there is going to be one silver bullet to help us become more energy independent and accomplish our emissions-reduction goals.
City of Fort Collins Fleet Manager Tracy Ochsner is no stranger to alternative fuels. He and his fleet have been involved with Northern Colorado Clean Cities (NCCC) since the coalition began, and they have worked with almost every fuel and vehicle technology in the Clean Cities portfolio.
Today, this award-winning city fleet operates nearly 700 alternative fuel vehicles (AFVs) in its fleet of 1,600, including heavy-duty compressed natural gas (CNG) and biodiesel vehicles, as well as light-duty propane, flex fuel, hybrid electric, and plug-in vehicles. This diversity is the result of a willingness to explore new technologies that make sense for the fleet and an understanding that there is no "silver bullet" that will work in every case.
Modeling Leadership in Northern Colorado
Fort Collins is located in a U.S. Environmental Protection Agency (EPA) nonattainment area for air quality standards. Motivated by the need for cleaner air, the city has been involved with AFV deployment activities since the early 1980s, beginning with propane vehicles and the early plug-in electric vehicle (PEV) models. In 1996, the city joined with other local governments, Rocky Mountain National Park, and other key partners to form the Weld and Larimer County and Rocky Mountain National Park Clean Cities, housed within the City of Fort Collins Natural Resources Department. Since then, the coalition has been renamed and incorporated as a stand-alone nonprofit, but Ochsner continues to serve on the NCCC Board of Directors and various committees. The City of Fort Collins has been an integral member of NCCC, often hosting events and guided tours for stakeholders at its facilities. In return, NCCC assists the city with grant applications, provides experts to address challenges with vehicle and fuel deployment, incorporates the fleet into regional initiatives, and is in regular contact about new deployment opportunities in the area.
Finding the Right Fuel for the Job
As with any municipality, the City of Fort Collins fleet operates a variety of vehicle types with diverse duty and drive cycles, including police, utility, and transit applications. For all vehicle replacements, the city's Green Purchasing Policy requires the fleet to consider all AFV options to determine whether there is an appropriate model for the job. "As long as we can justify the benefits, we aren't afraid of trying new technologies," Ochsner said. He and his team often use the Alternative Fuels Data Center's (AFDC) Light- and Heavy-Duty Vehicle Searches, as well as the Vehicle Cost Calculator, for their analyses.
The City of Fort Collins operates more than half its 34 transit buses on CNG, recently purchased a CNG tandem-axle dump truck, and has a few light-duty CNG vehicles. By the end of 2014, the fleet will be running 40 transit buses on CNG, an initiative that has been partially funded by a grant from the Federal Transit Administration. The city is scheduled to launch its new MAX Bus Rapid Transit line in May 2014 with six CNG buses.
The Fort Collins fleet also has a hybrid electric bucket truck, used to maintain the city's street lights, and operates its remaining heavy-duty diesel vehicles on a 20% biodiesel blend (B20), using nearly 300,000 gallons of the fuel annually. Approximately 400 such vehicles run year-round without issue, which Ochsner attributes to preventive maintenance practices, including tank maintenance and early fuel filter changes.
The light-duty fleet includes about 150 flex fuel vehicles currently running on ethanol blends; 53 propane vehicles, including pickup trucks and one Zamboni ice resurfacer; nearly 40 hybrid electric vehicles (HEVs); and six PEVs, including Chevrolet Volt and Nissan Leaf sedans. The fleet also operates several neighborhood electric vehicles.
This diversity in vehicles is supported by a variety of fueling options and funding sources. The city operates a private fast-fill CNG station, funded in part by the Congestion Mitigation and Air Quality Improvement (CMAQ) program, and four private ethanol fueling stations, which were developed with support from the Colorado Energy Office. The city also has its own propane and biodiesel fueling infrastructure and takes advantage of a variety of publicly accessible fueling stations in the area.
Looking ahead, the fleet is excited about opportunities to build PEV charging stations that will be available to the public. It secured a grant from the State of Colorado to add five such stations at municipal facilities and is looking to build additional charging stations in the future. As part of this effort, the city will conduct community outreach activities on the benefits of PEVs. Fort Collins has also been involved in the Drive Electric Northern Colorado and Project FEVER (Fostering Electric Vehicle Expansion in the Rockies) initiatives and is partnering with the Electrification Coalition to encourage PEV deployment in the area.
Ensuring Success
In 2012, the Fort Collins fleet used approximately 490,000 gasoline and diesel gallon equivalents of alternative fuels (about 55% of its total fuel purchases), averting more than 800 tons of greenhouse gas emissions. Others have taken notice. In 2012 and 2013, the city landed on the list of 100 Best Government Fleets, and in 2012, it ranked 22nd on the list of Government Green Fleets. But success has not come without a few bumps in the road. When the fleet first deployed CNG buses, drivers complained about lack of power. The fleet leadership acknowledged the issue and implemented newer technology. The drivers now prefer the CNG buses over their conventional counterparts because they offer comparable power with a quieter ride. "When it comes to fuels, we have tried them all and had our share of successes and failures," Ochsner said.
In for the Long Haul
The City of Fort Collins fleet has enjoyed consistent support for AFVs from city leadership over the last three decades, and Ochsner expects it to continue. Plan Fort Collins, the city's long-term strategy, was built on the vision of a healthy and sustainable community. According to the most recent Fort Collins environmental health plan, the city's transportation-related priority actions include "convening an interdepartmental team to explore options for addressing new vehicle types and fuel sources," and "investing in infrastructure to support the use of alternative fuels and highly efficient vehicles." In addition to the air quality benefits of such fuels and technologies, the city also values their clear financial advantages and their contributions to U.S. energy independence.
"We don't believe there is going to be one silver bullet to help us become more energy independent and accomplish our emissions-reduction goals. It's going to take all types of fuels. By diversifying, we have the opportunities to fit the best type of vehicle with the application. We don't get locked into one fuel or technology," Ochsner said.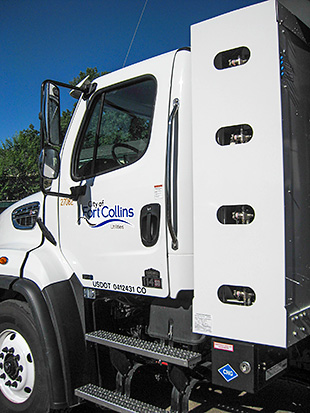 Fleet Type: Municipal, including police, utility, and transit applications
Alternative Fuels: Biodiesel, compressed natural gas, propane, electricity, ethanol
Number of Vehicles: 700 alternative fuel vehicles in a fleet of 1,600
Petroleum Displacement: 490,000 gallons in 2012
Emissions Reductions: 800 tons of GHGs