March 17, 2015
Partnerships Cement Long-Term Success for Northern Colorado Duo
The educational and informational forums our NCCC partners lead are key to helping private sector fleets understand how making the switch can also make sense for their bottom line.
In a state best known for its jagged Rocky Mountain peaks, it's hard to imagine there is also a vast swath of flat grasslands in northeastern Colorado. Weld County, the third-largest county in the state, is best known as one of the nation's richest agricultural counties.
It also holds claim as a top producer of oil and natural gas, operating 40% of all wells statewide. Naturally, this creates "fertile ground" for deploying natural gas vehicles. Sheble McConnellogue and Maria Eisemann, coordinators of the Northern Colorado Clean Cities Coalition (NCCC), agree there have been distinct advantages when it comes to persuading stakeholders to use alternative fuels.
Weld County's copious natural resources and an availability of state grants have provided them with an edge.
"The state grants in Colorado have helped build momentum and interest in compressed natural gas (CNG) because of its abundance in northern Colorado," said McConnellogue, who has been with the coalition since its inception 18 years ago. "We make it a point to share the facts, successes, and challenges associated with each alternative fuel so fleets are able to make a smart, informed choice."
Making Lemonade from a "Nonattainment Area" Designation
Following a 2006 U.S. Environmental Protection Agency (EPA) designation as a nonattainment area, Weld County became eligible for federal Congestion Mitigation Air Quality (CMAQ) transportation funds.
In 2009, in an attempt to "make lemonade from lemons," NCCC teamed up with the public and private sectors to establish the Weld County Natural Gas Coalition (WCNGC). The WCNGC's mission became twofold—to improve air quality in the region and create an economic driver (by building fueling station infrastructure throughout the county and converting area fleets to natural gas). That's when things really heated up for McConnellogue and Eisemann, who were tapped to provide education, support, and expertise to accomplish the WCNGC mission.
Since its founding, the WCNGC has funded the construction of 4 public CNG fueling stations along Weld County's major transportation corridor, as well as the conversion of 62 vehicles to CNG and 9 to liquefied natural gas. The organization has also worked with several municipalities, fire districts, and school districts to convert and purchase CNG vehicles as part of its fleet replacement program. Along with the economic growth created from Weld County's natural gas production, these efforts have played a role in improving air quality and decreasing unemployment in the area.
With the help of the NCCC members, the Weld County fleet saved more than 40,000 gallons of petroleum and averted 6,443 tons of greenhouse gas (GHG) emissions in 2013 alone.
"The Clean Cities partnership was integral and vital to making everything happen, and they continue to be a great partner and resource," said Weld County Commissioner Barbara Kirkmeyer. "The educational and informational forums Sheble and Maria lead are key to helping the private sector understand how making the switch can also make sense for their bottom line."
Energy Coaching to Expand Education
Armed with lessons learned from working with the WCNGC and project funding from the U.S. Department of Energy and the Colorado Energy Office, McConnellogue and Eisemann have expanded their educational efforts. As part of the statewide pilot project Refuel Colorado Fleets, the NCCC leaders now offer "Energy Coaching"—free technical assistance to fleets, fuel providers, and auto dealers—in four northern Colorado counties. Energy Coaching is intended to accelerate the adoption of alternative fuels, including propane, CNG, E85, biodiesel, and electricity.
"When we engage with communities, our goal is to educate local fleets about the benefits and incentives that are currently available in Colorado, and help them identify the best alternative fuel for their fleet," Eisemann said. "It's easier to do that when we can point to Weld County as a resource and a success story."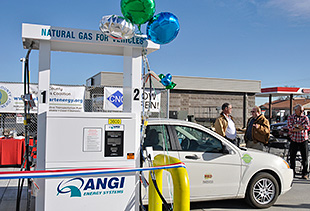 Fleet Type : Municipal, School Transportation
Alternative Fuels: Compressed natural gas, liquefied natural gas
Number of Vehicles: 70 alternative fuel vehicles
Petroleum Displacement: 40,000 gallons of petroleum in 2013
Emissions Reductions: 6,443 tons of GHGs in 2013