March 17, 2015
Blue Skies Initiative Clears the Air in North Carolina for More Than a Decade
By diversifying the kinds of fuels we use, we're enhancing our energy security and reducing the impact of potential fuel shortages.
Located in the mountains of western North Carolina, the city of Asheville has a long history of greening its fleet. Starting in 2003, the city acquired low-speed electric vehicles and began converting some of its other vehicles to alternative fuels. The first of four public-access compressed natural gas (CNG) stations in the area opened in 2005. Soon after, the city acquired four CNG sedans and five CNG pickups for its water, public works, and fire departments. In 2006, the city added gasoline-electric hybrids to its fleet and, in 2007, started filling its gasoline and diesel vehicles with ethanol and biodiesel.
Most recently, the Asheville Transit System purchased seven diesel-electric hybrid buses, and the city purchased six CNG refuse trucks and infrastructure. The city started fueling its diesel vehicles with B20 and has purchased a plug-in hybrid that charges at a solar-integrated charging station.
"Increasing alternative fuel use reduces emissions and supports the city's municipal carbon footprint reduction goal of 80% by 2050," City Fleet Manager Mark Stevens said. "By diversifying the kinds of fuels we use, we're also enhancing our energy security and reducing the impact of potential fuel shortages such as those experienced during past storm events."
In 2013 alone, the city's CNG vehicles reduced greenhouse gas emissions by about 41 tons. They also cost about 40% less to fuel than comparable conventional vehicles.
Also during this decade, the Asheville-based Land of Sky Clean Vehicles Coalition (as part of the Carolina Blue Skies and Green Jobs Initiative) helped secure $1.2 million in Recovery Act funds for projects in Henderson County, the cities of Asheville and Hendersonville, and Mission Hospital. The coalition received nearly $700,000 of the funding (in addition to the city's nearly $550,000 cost share) for 25 CNG vehicle conversions, first-responder alternative fuel training, and CNG fueling station upgrades. Thanks to these upgrades, more area organizations now use the station, including Mission Hospital, AT&T, and Mountain Mobility Transit.
"The Land of Sky Clean Vehicles Coalition was pleased to assist the city of Asheville in securing a grant to support this natural gas vehicle and infrastructure project," Coalition Coordinator Bill Eaker said during a media event at the upgraded station. "Since the opening of the region's first public-access CNG station nearly a decade ago, the city has earned its reputation as a stalwart alternative fuel vehicle champion in western North Carolina."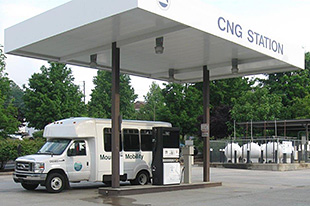 Fleet Type : Municipal, including police, fire, utility, and transit applications
Alternative Fuels: Compressed natural gas, electricity, biodiesel
Number of Vehicles: 29 alternative fuel vehicles
Petroleum Displacement: N/A
Emissions Reductions: 41 tons of GHGs in 2013