April 25, 2017
Going Beyond Gas: Nissan Brings Car Charging to Indianapolis Convenience Store Chain
We've seen a steady increase in our customer base since installing the equipment a couple of years ago.
When Nissan looked to expand its nationwide No Charge to Charge Program in the Indianapolis area, it turned to the Greater Indiana Clean Cities Coalition to help find businesses interested in adding plug-in electric vehicle (PEV) charging to their offerings, including Ricker's, a local chain of convenience stores and fueling stations. Nissan is a platinum-level member of the Coalition.
"The Coalition really helped us out when it came to facilitating our partnership with Nissan," said Jay Ricker, owner of Ricker's. "[Coordinator] Kellie Walsh worked with Nissan to identify Ricker's as an appropriate choice given the nature and reach of our business--with 56 convenience stores, we have plenty of locations spread across the metro area."
According to Nissan, the Ricker's installation marked the largest citywide deployment of direct-current (DC) fast charging equipment at a chain of retail fueling stations in the United States.
The program provides complimentary public charging to new Nissan LEAF owners in select markets for the first 24 months of ownership. Yet, LEAF owners aren't the only ones using the charging stations--true to Nissan's "EV infrastructure for all" motto, the stations are publicly available for anyone to use. While charging is free for LEAF owners via EZ-Charge cards from Nissan, others pay per charge.
The Chicken or the Egg
When it came to boosting its PEV sales, Nissan quickly realized that alleviating customer concerns needed to be a top priority.
"PEV sales hinge on customers having easy access to public charging, which was a primary driver behind Nissan launching the No Charge to Charge Program in 2014," said JeSean Hopkins, senior manager of infrastructure strategy and business development at Nissan.
Hopkins said Nissan has developed close ties with Clean Cities coalitions to identify retail outlets that would be likely to partner in establishing a comprehensive EV charging network in target markets. Under the program, Nissan works with partners to install stations every 10 to 15 miles.
In 2015, Nissan selected nine of Ricker's locations as ideal locations for installing its 50 kW DC fast charging stations. Nissan provided the charging stations at no cost, so Ricker's investment was minimal--ranging from $2,000 to $3,000 per site for installation.
Entering the PEV Fueling Market
"Nissan's No Charge to Charge Program was a big incentive because it provided us with a low-cost way to establish an electric vehicle charging network for our customers," Ricker said. "We anticipated that the demand for charging options would continue to grow, and it has. We've seen a steady increase in our customer base since installing the equipment a couple of years ago."
Although Ricker's was approached about participating in various incentive programs that offered other types of low- or no-cost alternative fuel equipment, Ricker's chose to go electric. "We saw the need for PEV infrastructure--ethanol fueling stations are fairly common in this area, but charging station options were lacking," Ricker said. "It provided an opportunity to be a market leader in our community."
Ricker's is among a wide array of companies that Nissan has partnered with through its No Charge to Charge Program, which has grown to include 51 markets across the county.
"The whole installation process went really smoothly--we didn't face any major challenges," Ricker said. "In fact, Nissan hosted a competition among a group of retailers participating in the program to see who could get their charging equipment up and running the quickest, and we won!"
A locally owned and operated company, Ricker's has a long history of greening its operations and reducing emissions. The company donates up to a penny per gallon on fuels purchased at its stations in the metro area to help tree-planting efforts in national forests and neighborhoods in the region. Employees also participate in volunteer clean-up events at local parks.
"By adding the charging stations at some of our locations, we wanted to send the message that Ricker's is fuel agnostic--we don't just sell carbon fuels," Ricker added. "We offer our customers a variety of options."
Although the convenience store chain doesn't have immediate plans to install additional charging units, Ricker said it might do so in the future based on customer response and market demand.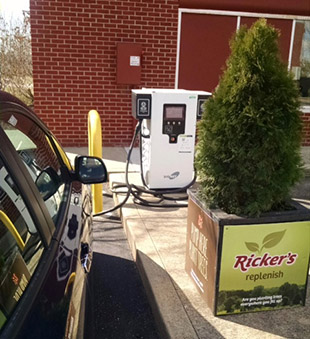 Alternative Fuel: Electricity
Number of Chargers: Nine 50 kW DC fast charging stations
Charging Cost to Leaf Owners: Free charging, up to 30 minutes per visit
Charging Cost to Other EVs: $5 for 30-minute charge