Jan. 1, 2015
Workplace Charging at Leased Facilities Charges Up Tenants and Property Managers
Attracting and retaining tenants in saturated real estate markets is increasingly difficult. Tenants may consider many options when shopping for space that can meet their organizations' needs, including sustainability, transportation, and technology requirements. As tenant expectations evolve, property managers must continuously look for ways to differentiate their building amenities without significantly affecting their price point. Installing plug-in electric vehicle (PEV) charging stations, also known as electric vehicle supply equipment (EVSE), is one way to stand out.
Many tenants will expect charging, particularly in areas of the country with strong PEV markets. Some states and cities are now encouraging buildings to provide future access to EVSE, as charger-ready building codes are becoming more widespread. Although they do not own the property, tenants can actively manage their sustainability and transportation profiles by choosing progressive facilities that offer EVSE.
Charging stations provide a benefit to employees that drive or are considering purchasing a PEV. Additionally, installations can signal a company's commitment to sustainability. Charging stations also help companies reduce their Scope 3 emissions, which include emissions generated through employee commuting.
Resources for Property Managers
The purchase, installation, and management of charging stations does not always require a high capital expenditure. There are a number of resources available to help property managers navigate the process of purchasing, installing, and managing charging stations. For instance, federal, state, and local incentives can reduce the price of charging infrastructure. Vehicle manufacturers may also offer rebates or subsidize charging stations to help provide charging for little to no upfront cost. Additionally, many utilities offer financial incentives for charging stations and reduced electricity rates for PEV charging. Coalitions with the U.S. Department of Energy's (DOE) Clean Cities program—located throughout the country—can help inform building owners of potential local incentives and partnerships.
While electricity costs are minimal and many property managers offer free charging, various types of fee structures can help recoup electricity costs or provide a return on investment. Many charging station models allow customized access based on the user. For example, tenant employees may access charging free of cost, while public users are required to pay an hourly fee. Networked chargers that are managed by a charging station company and require employees to pay via a membership or usage fees, provide building management with the option to leave the financial transactions to a third-party.
Sustainability and energy efficiency can also differentiate leased facilities from the competition as some tenants request buildings with minimal environmental footprints. Charging stations are visual advertisements for a building's environmental leadership. Building managers can publicize their charging to both building tenants and the larger public by writing newsletter articles, posting on social media, or collaborating with local PEV car dealerships and user groups to host ride-and-drive events. Managers can also make an effort by submitting their charging location information to the DOE Alternative Fueling Station Locator.
In addition to providing benefits to tenants, PEV charging is a common mechanism to earn points or credits in many independent green building certification programs. For example, the U.S. Green Building Council's Leadership in Energy and Environmental Design (LEED) rating certification recognizes charging infrastructure as an important part of building sustainability. PEV parking, charging station installation, station connectivity, and other activities can earn LEED certification points, depending on the building category. Other sustainability certifications, such as the Green Building Initiative's Green Globes certification program, also award credits for charging stations. For facilities striving to reduce total energy consumption or become net-zero buildings, ENERGY STAR for Buildings and Plants excludes the electricity consumed through sub-metered charging stations from a building's overall consumption.
Spotlight: Atlantic Station managed by CBRE, Inc.
Located in Atlanta, Georgia, Atlantic Station mixed-use development sees up to 10 million visitors a year and is managed by CBRE, Inc. Anticipating significant charging demand from Atlanta's growing and robust PEV market, CBRE first installed charging stations in 2010. To meet increasing demand, CBRE has collaborated with PEV manufacturers, charging station manufacturers, its local DOE Clean Cities coalition, Clean Cities Georgia, and utility to offer its tenants and the public a total of 28 Level 1, Level 2, and DC fast charging stations.
Tips for Tenants
To ensure success, it is recommended that tenants provide all available information to building managers about the benefits, installation, and management of charging stations. Tenants are encouraged to assess demand by surveying employees and other building tenants. By collaborating, multiple building tenants can build a stronger case for charging, regardless of their office size.
If an appeal to building management is not successful, there are a number of other creative ways to handle charging station installations. Some tenants choose, with their building management's approval, to pay for installation and station costs themselves. Others have installed networked chargers in partnership with charging companies to avoid the need for any further charging management costs or work. Having a third party own and operate the stations can also reduce a tenant's own capital expenditure on property they do not own. Another alternative is to collaborate with a company providing modular charging units. These units do not require installation, can run on solar energy, and if necessary, can move with a tenant.
Spotlight: Charging at Cisco Systems
With locations across the country, Cisco utilizes a combination of leased and owned facilities that offer charging. When looking for new properties, Cisco lists workplace charging as a preferred lease requirement for potential properties. In this way, Cisco can find out immediately whether a property manager has or will install charging at its facility. Not all new properties have been conducive to installing charging stations, but by Cisco including charging in their written lease preferences, they have been able to open this dialogue early on.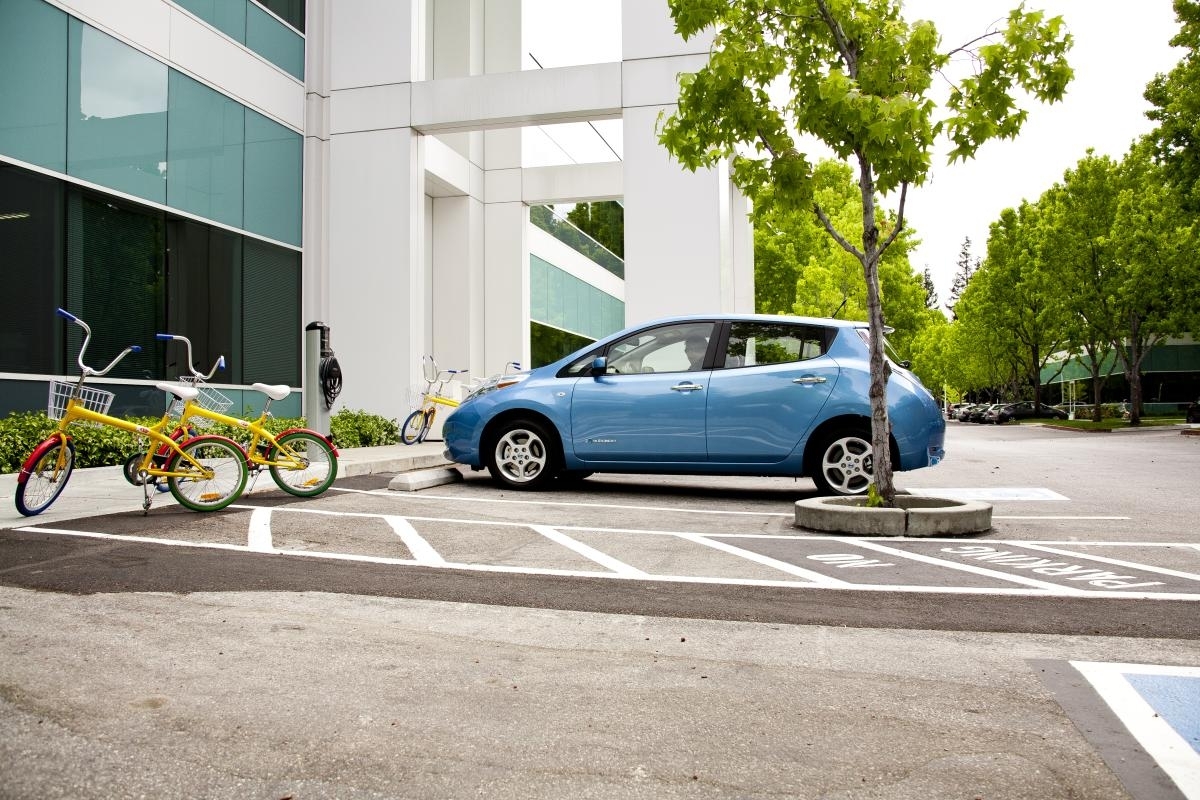 Atlantic Station managed by CBRE, Inc.: Installed 28 Level 1, Level 2, and DC fast charging stations
Charging at Cisco Systems: Lists workplace charging as a preferred lease requirement for potential properties