Jan. 1, 2015
Local Businesses Get Creative to Offer Workplace Charging
Being a business, we're interested in saving money and [workplace charging] has just been a great way to be efficient in our processes. Those who are involved in it love it.
Three local businesses have come up with creative ways to set up workplace charging programs for their employees, proving that large corporations are not the only employers who take an active role in reducing commuter emissions.
Hollywood Woodwork
An increasing number of businesses look to save money while lowering their carbon footprint, but Hollywood Woodwork has found a particularly creative way to accomplish these goals. This custom woodwork firm's Cans for Kilowatts program encourages employees to bring in recyclable goods, particularly metal, that can be redeemed for cash. The company invests these funds in sustainability initiatives, including recycling bins throughout the company and six charging stations for plug-in electric vehicles in its parking lot.
"Being a business, we're interested in saving money and this has just been a great way to be efficient in our processes," said Teresa Bell, of Hollywood Woodwork. "Those who are involved in it love it."
Like many of Hollywood Woodwork's sustainability initiatives, the Cans for Kilowatts program grew out of Martin Pednaud's passion for clean air. Although his "day job" is working on the company's plant floor, he also volunteers as the company's sustainability manager. In addition to the Cans for Kilowatts program, he launched a garbage optimization initiative to increase recycling and reduce waste that reduced refuse disposal costs by 67%. These savings enabled the business to invest in a rooftop solar array which now produces approximately 15% of the company's energy.
Pednaud's enthusiasm is contagious within and beyond the company. While Pednaud was the first to drive a plug-in electric vehicle (PEV) in the company, there are now five other PEV drivers, including the owner, Yves DesMarais. Participating employees receive free charging, save money on gas and reduce their carbon footprints. When potential clients tour Hollywood Woodwork's facility, they often notice the chargers and see them as a sign of the company's commitment to sustainability.
"Having that environmental initiative in place, it makes you think this company is moving towards the future of what workplaces should be," said Janice Oliva, a PEV driver in the company's accounting division.
Mom's Organic Market
Sustainability is increasingly important to many businesses, but few can describe it as their core focus. But for MOM's Organic Market—whose purpose is "to protect and restore the environment"—their commitment extends all the way to their employee benefits. As part of its Green Benefits program, employees can receive a variety of free or discounted items to help them live more sustainably. For example, MOM's offers employees a 15% subsidy for a hybrid or plug-in electric car and plug-in electric vehicle charging at their Rockville headquarters.
"We'll do anything we can to support people driving electric vehicles," said Scott Nash, MOM's founder and CEO.
Workplace charging can help drivers of plug-in electric vehicles nearly double their all-electric commuting range. MOM's sees offering workplace charging as just one way it can reduce the barriers to taking environmentally friendly actions.
Currently, MOM's offers three chargers at its headquarters in Rockville, MD and 22 chargers at retail locations around the greater Washington, D.C. region. Several employees say that the availability of workplace charging was a key reason they can drive electric.
"The ability to charge my car at work was a deciding factor in my family's decision to purchase an all-electric vehicle. Our community is currently debating whether to add centralized chargers so we quite literally depend on the availability of the work chargers to keep our Spark on the road!" said Ted Major, Regional Wellness Coordinator.
Posty Cards
Many company owners are willing to "talk the talk" of sustainability, but less likely to "walk the walk." Erick Jessee, president of greeting card company Posty Cards, is an exception. In addition to his company printing a line of sustainable cards, obtaining 20% of its energy from a solar array, and running in a LEED Platinum manufacturing plant, he also embraces sustainability in his own behavior. For example, he drives a plug-in hybrid electric vehicle. Now, through a partnership with Kansas City Power and Light, Posty Cards is offering employees and visitors the ability to plug in with six new chargers in its parking lot.
"We really saw that electric vehicles were going to be the next phase for automobiles," said Jessee. "We feel it's a community service to have [charging] out there."
This installation builds on Posty Cards' previous efforts to offer workplace charging. When the company renovated its building in 2011, it installed the first charging station at a private company in the Kansas City region. With the expansion, an increasing number of employees have expressed an interest in driving electric.
"Without [workplace charging], I don't think I would have had any interest in it. I think I'm a good example of an employee from going to zero to sixty pretty quickly," said Tony Doman, who is in the company's maintenance department.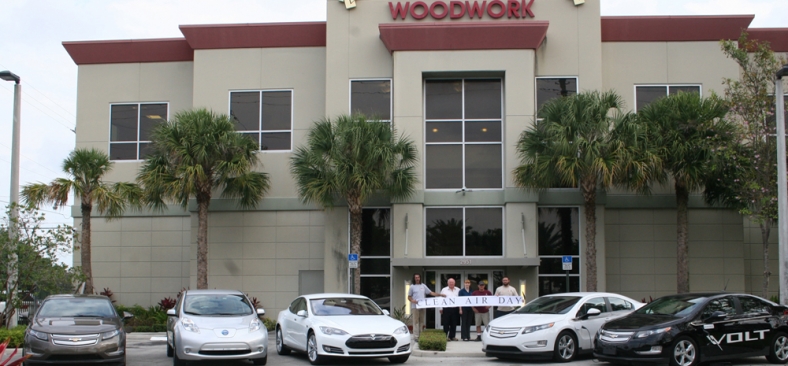 Hollywood Woodwork: Cans for Kilowatts pays for six new charging stations
Mom's Organic Market: Green Benefits program supports employee charging with subsidies for PEVs and access to workplace charging
Posty Cards: Partnership with Kansas City Power and Light leads to six new chargers