Dec. 10, 2021
Centralina Stakeholders Coordinate Steps to Support Connected and Automated Vehicles
"To have information on CAVs resonate in your region, you need to make sure the experts presenting can not only provide a technology overview but also connect with the people in the room and how it impacts their work."
Connected and automated vehicles (CAVs) have the potential to fundamentally change our mobility system. When properly integrated into traffic flows, CAVs can enhance transportation safety and efficiency by reducing accidents and traffic jams, while also improving fuel economy. However, these opportunities come with challenges, so transportation professionals across the country are examining emerging CAV technologies to learn more about their potential benefits and impacts.
Recent research on CAV applications from DOE's Vehicle Technologies Office, Energy Efficient Mobility Systems (EEMS) Program suggests even a modest market share of CAVs reduces traffic and energy consumption in situations such as vehicle merging at highway ramps. The research also shows CAVs are best used as shared vehicles with multiple passengers to reduce traffic congestion, fuel consumption, and vehicle miles traveled.
Michelle Nance, regional director of Centralina Regional Council (Centralina), and Jason Wager, coordinator of Centralina Clean Fuels (CCF), are examining how CAVs can shift transportation systems in North Carolina. Centralina's work on CAVs stems from a long-standing interest in being a leader in innovating to address transportation issues that impact local development patterns and long-term quality of life. The 2016 Greater Charlotte Regional Freight Mobility Plan recommended the expanded use of intelligent transportation systems and technology related to CAVs, such as using information gathering systems to identify traffic congestion and improving the flow of on-road freight by connecting trucks in a platoon.
"Now is the right time to explore CAVs. With the rise of transportation network companies and growing vehicle and roadside communication capabilities," Wager said. "We're already seeing dramatic changes to the transportation sector."
Workshop Series
In 2017, CCF partnered with the Centralina Regional Council and the North Carolina Department of Transportation (NCDOT) to bring together regional stakeholders for a CAV workshop series to better understand the status of CAV technologies, current applications, and future impacts. These workshops explored the potential effects of CAVs on personal mobility, transit systems, and traffic flows; assessed the region's readiness for CAVs; and identified strategies and actions for sustainable and equitable integration of CAV technologies into the region's long-term planning goals and vision.
The workshops highlighted potential benefits and considerations of CAVs, as well as useful insights that could be applied in other communities.
Potential Benefits:
Economic and Societal: CAVs can improve the safety and efficiency of moving people and freight. A National Highway Traffic Safety Administration study estimated that motor vehicle crashes in 2010 cost $242 billion in economic activity.
Mobility: CAVs could provide mobility options to vulnerable populations, such as the elderly, individuals with disabilities, people who do not own a car, or those who are unable to drive.
Efficiency and Convenience: CAVs could maximize the capacity of transportation systems and reduce travel delays through advanced technology applications.
Public Transportation: Recent DOE research suggests that CAV applications are more likely to achieve environmental, sustainability, and public health benefits if they are part of an integrated mobility system that includes access to public transit.
Challenges:
Transportation Planning: The impacts of CAVs on traffic are not clear. Recent DOE research indicated that private CAVs might induce more driving and cause an increase in vehicle miles traveled and traffic congestion.
Data Management and Security: Data capture management presents great opportunities for proactive mobility operations. However, CAVs introduce new risks, such as potential over-reliance on vehicle technology, and growing cybersecurity threats.
Considerations for Other Communities Considering CAVs
In the short- to medium-term, the presence of both partially automated vehicles and human-driven vehicles on roads will present challenges. Until the technology becomes more widespread, CAVs will have to navigate situations that are complex and difficult to diagnose. Communities considering CAVs should focus on consumer education, safety, and land use policies that improve mobility without increasing energy use and congestion. Communities should also plan for the necessary infrastructure and anticipated new realities, such as curbside management and updated parking requirements. Communities will need new tools and techniques to assess impacts on capacity, mobility, safety, environment, and land use.
Roadmap for Action
The Automated and Connected Vehicle Roadmap: Actions to Prepare the Greater Charlotte Region summarizes the key takeaways from the workshop. This roadmap provides a comprehensive overview of the workshop series, including its organization; the benefits and impacts of CAVs; and preliminary actions, considerations, and early-stage strategy and response.
The roadmap provides guidance to other communities on how to prepare for CAVs through the following high-level priority actions:
Convene regional stakeholders to identify organizations and partnerships that can implement key local actions that support CAVs and long-term visions of the region's growing communities.
Incorporate CAVs in planning studies.
Update tools to evaluate CAV impacts.
Consider possible implications of CAVs on capital investment needs.
Seek opportunities to educate and inform regional leadership and staff.
Provide the regional perspective on CAV issues.
Identify opportunities to be partners in pilot tests for new technologies.
Along with the roadmap, the workshop series led to the development of the Greater Charlotte Region Connected and Autonomous Vehicles Task Force. This task force is charged with implementing the roadmap, determining how to integrate emerging transportation technologies into local and regional initiatives, and collaborating with partners.
"Because CAV technologies are developing quickly, we ultimately wanted to put together a task force to continue the conversation and be a resource moving forward," Nance said.
The task force is a coalition of regional public and private sector leaders that meets quarterly to leverage ongoing development in technologies and regional input. They serve the region as go-to experts for anything related to emerging transportation technologies. The task force also weighs in on MPO plans with shared language that align all regional plans.
"If we identify a new issue that relates to transportation technology, we bring in a speaker to talk to the task force. If anyone in our region needs information on emerging technology, we have a sounding board ready to go," Nance said. "Having an expert come in and speak about how the mechanisms in a vehicle interact with roadside infrastructure is very technical and can often put people to sleep. To have information on CAVs resonate in your region, you need to make sure the experts presenting can not only provide a technology overview but also connect with the people in the room and how it impacts their work," Nance added.
Next Steps
Centralina, in coordination with CCF, leads collaborative efforts to expand mobility choices through discussions about technical challenges, policy considerations, pilot programs related to emerging vehicle technologies, and future-facing programs in the region. The CAV work accomplished to date in the region has guided local thinking about emerging transportation technologies, now evident in the CONNECT Beyond regional mobility plan and vision. The CONNECT study builds off the roadmap to define high-capacity transit corridors and mobility hubs, which serve as the geographic foundations for transportation technology infrastructure investments for the future.
There are a lot of angles to approach CAVs, but Centralina and CCF have learned it's essential to keep the local perspective, and local needs, in mind.
"It's important to break it down for your stakeholders and focus on what's in your control or jurisdiction and what you can do within those bounds," Wager said.
Staying up to date on current research is also crucial. CCF continues to learn about the latest national-level CAV and emerging technology research and brings insights back to the region. One way they do this is by attending DOE's Vehicle Technologies Office Annual Merit Review.
A mindset shift also goes along with successfully adapting to rapidly changing technology.
"So many of us are geared to solutions in our day-to-day work, but this is a bit more complex and evolving rapidly," Wager said. "We need to continue to identify challenges then talk about next steps rather than final steps. For instance, with the rapidly evolving realities of the emerging transportation technology environment, we are exploring a refresh of the roadmap and updating a task force workplan for 2022. Importantly, this will be done in coordination with task force members alongside national subject matter experts and the local metropolitan planning organizations that are charged with planning for transportation needs in our region well into the future."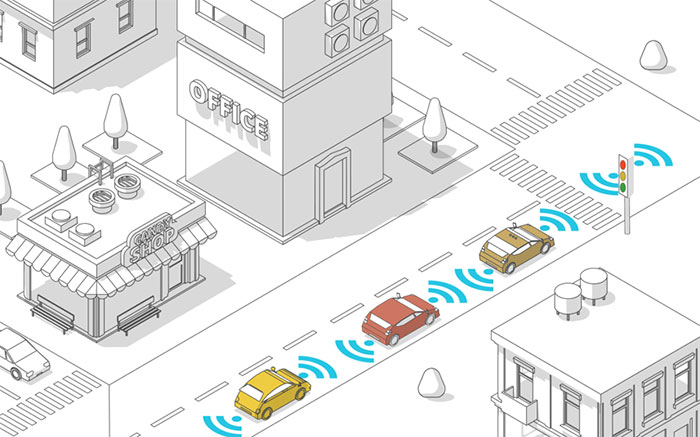 Technology: Connected and automated vehicles
Strategy: Workshops, outreach, education
Motivation: Traffic reduction, fuel economy improvement, vehicle miles traveled reduction, equity