Aug. 9, 2023
Community Engagement Guides Creation of Neighborhood Microtransit Hub
When I look at the data, it tells me 45% of those rides are getting kids to school.
It began with a carpooling dilemma. Young adults living in Del Paso Heights—an underserved neighborhood of Sacramento, California—needed a way to get to career training more than an hour away. Volunteers associated with the training center, Green Tech Education, provided rides, but one volunteer thought an electric shuttle bus would be more efficient. To help solve this challenge, Gina O'Neal, co-director of the Sacramento Clean Cities Coalition and an air quality planner with the Sacramento Metropolitan Air Quality Management District (SMAQMD), acquired a gently used electric bus from Phoenix MotorCars to transport the students. This inspired a wave of ideas about ways to expand transportation options. Students started asking: Can you help my mom get to work? Can you help my brother get to school? Around the same time, the SMAQMD donated eight hydrogen fuel cell electric vehicles to Green Tech and provided significant additional funding. The electric bus is charged with a ChargePoint DC fast charger and the hydrogen fuel cell vehicles are fueled at local Shell hydrogen fueling stations and maintained by Roseville Toyota.
Suddenly, a microtransit program was taking shape: The electric shuttle bus and hydrogen vehicles formed a fleet that could support the transportation needs of more Del Paso Heights community members.
Green Tech reached out to 10 local nonprofits that work with underserved communities to offer use of the SMAQMD's eight donated hydrogen fuel cell electric vehicles. The program began by offering 10 on-demand trips a week for community members. But demand quickly outpaced supply. Lyft Concierge rides filled the gaps, allowing the program to expand to 200 trips a week. Case workers with participating nonprofit organizations order the Lyft Concierge rides on the community members' behalf. They also track all the ride request types, including those they cannot accommodate.
"I have one clear rule, and that is if I hear it more than three times, I should pay attention," O'Neal said. "So even though we already know we cannot accommodate a six-year-old to ride by themselves, I request that we put those rides in a spreadsheet anyway so that I can see any trends in the needs."
Drivers provide notes on the types of trips they perform, and Lyft Concierge also tracks points of origin and destinations. Sacramento Clean Cities provides regular oversight to ensure trip requests are not duplicated and all trips are fulfilled. This organizational system ensures the trips fulfill essential services.
"It's pretty amazing. When I look at the data, it tells me 45% of those rides are getting kids to school," O'Neal said. The microtransit program takes significant pressure off parents who otherwise face challenges getting kids to school on time due to limited transportation options. One mother O'Neal spoke with spent four hours riding the bus to get her children to and from school. They didn't get home until 7:30 at night, reducing the amount of available time for homework, meals, and other important activities. Many parents endured similar challenges, and any delays in their bus route meant kids arrived late to school and parents were reprimanded. Now parents have a reliable option that gets their kids to school in a fraction of the time.
Centering Community Needs
A variety of microtransit programs have blossomed to support Del Paso Heights transportation needs. The electric shuttle can be used by groups that need to reach the same destination at the same time. It also supports the Net Zero Student Ride Hail program, which provides students free rides to job training and educational programs, as well as medical care centers and workplaces. The donated hydrogen fuel cell electric vehicles are part of the Plan, Share, Go program, which matches community members with pre-planned routes (based on popularity) and dedicated drivers. Plan, Share, Go was developed by Angelina Rahimi, owner of Aura Planning, a woman-owned transportation planning group that was contracted to put the microtransit hub on the map. And the Community CarShare program provides ZipCar's zero-emission vehicles that can be reserved up to three hours per day or nine hours per week for local errands. First-mile, last-mile trips are also eligible to ensure regional transit hubs like light rails and bus stops can continue to be options.
When it came time to build a hub to store the electric shuttle and hydrogen vehicles, Aura Planning organized a door-to-door survey using volunteers to speak directly with neighborhood residents about the use of a vacant neighborhood lot.
Sacramento Clean Cities staff conducted interviews with underserved residents to identify their transportation needs and preferred solutions. Abandoned cars in the lot were being used by people experiencing homelessness, so volunteers brought the people food and clothes.
"I learned we have to pay attention to who our neighbors are and give them the information before we just come in and start breaking ground," O'Neal said. "We spoke to every single person to make sure to not displace them."
Community members said they wanted a convenient, clean, attractive, safe space with the ability to sit and wait, charge their phones, and have a few options for getting around. In response, under the management of Aura Planning, the project partners designed a self-sustaining parklet[1] with electric vehicle charging stations, solar-powered phone charging, a bike rack, a car share, and on-demand electric shuttle. The SMAQMD provided $1.1 million to create the hub, which was built by Green Tech using materials like permeable concrete that allows rainwater to drain into the soil below and absorbs minimal sunlight to avoid creating a heat island.
"We already have 800 members signed up to participate in these services and we haven't officially launched the hub yet," O'Neal said. Although the SMAQMD, Green Tech, and Sacramento Clean Cities already sponsored several educational events at the hub. "I truly believe it's creating a paradigm shift within the community."
Once the hub opens officially, Green Tech will leverage its workforce training programs to pay students to learn how to check the vehicle chargers and clean the sensors, drive the electric shuttle bus, and maintain the physical space. Because of the skyrocketing success of this mobility hub, the Sacramento region has plans for 49 additional hubs, some with only a few car-share vehicles and others with the full complement of transportation services.
O'Neal will continue to gather community feedback to shape future offerings. "That's how I'm using my access to resources, by providing what the community needs and not telling them what they need," O'Neal said. "I'm meeting them where they are."
[1] The National Association of City Transportation Officials describes parklets as curbside parking spaces that are converted into a community space using design features like seating, greenery, and/or bike racks, among others.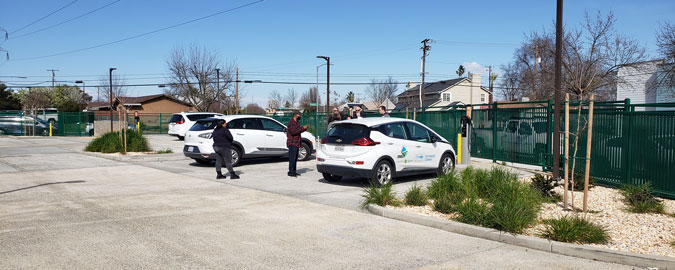 Fuel: Electricity, hydrogen, microtransit
Strategies: Community engagement, mobility hubs, car share, ride hailing