May 1, 2012
Leadership Drives Alt Fuel Success at National Grid
Clean Cities has been instrumental in the successful development of many of National Grid's alternative transportation projects. Coalitions act as catalysts when we attempt to get alternative fuel projects off the ground.
National Grid established itself as a leader in the energy sector by delivering electricity and natural gas to more than 3 million customers in Massachusetts, New Hampshire, New York, and Rhode Island. But this utility company is also proving to be a leader in the alternative fuels arena through its investment in natural gas vehicles (NGVs).
National Grid's predecessor companies began using NGVs in their fleets in the 1970s, motivated by energy security, emissions reductions, cost savings, and other considerations. Since then, under the direction of Michael Randazzo, lead fleet engineer and alternative fuels lead, and Bill Hilbrunner, fleet director, the company's inventory of NGVs has grown to approximately 425 as of early 2012.
Currently, the company's fleet includes propane forklifts, hybrid electric vehicles, and all-electric vehicles (EVs) in addition to natural gas vans, sedans, dump trucks, and crew trucks.
National Grid's commitment to alternative fuels doesn't stop at the corporate level. The company also enables customers to adopt beneficial transportation alternatives by developing infrastructure for public use. Because National Grid sees fueling infrastructure availability as a major barrier to alternative fuel vehicle (AFV) deployment, it has increased its focus on building public fueling sites throughout its service area. As of February 2012, National Grid operates 15 public-access compressed natural gas (CNG) fueling stations – three in Massachusetts, 10 in New York, and two in Rhode Island – and is also installing EV charging stations for public use across its service area.
Partnering for Success
Recognizing the importance of collaboration, National Grid established strategic partnerships to help carry out its NGV deployment and infrastructure development efforts. For example, the New York State Energy Research and Development Authority (NYSERDA) provided funding support through grants – including an American Recovery and Reinvestment Act award – to help build two CNG stations and purchase about 30 new AFVs. National Grid also has a strong working relationship with Clean Communities of Central New York (CCCNY) and most of the Clean Cities coalitions in its service area. These coalitions provide National Grid with technical and regulatory knowledge and experience, which helps when deploying AFVs and supporting infrastructure.
"Clean Cities has been instrumental in the successful development of many of National Grid's alternative transportation projects," said John Gilbrook, National Grid's transportation project manager. "Coalitions act as catalysts when we attempt to get alternative fuel projects off the ground."
National Grid also partners directly with customers to successfully deploy alternative fuel and advanced vehicles. For example, Onondaga County supported National Grid's investments in natural gas fueling and EV charging infrastructure by committing to purchase NGVs and EVs for its fleet and to use National Grid's fueling infrastructure. Central New York Regional Transportation Authority (Centro), another key partner, has also made a substantial commitment to CNG by investing in natural gas buses and using National Grid fueling infrastructure.
Overcoming Challenges
As it worked to expand its alternative fuels program, National Grid encountered several key challenges, including fueling infrastructure availability, vehicle incremental costs, and driver acceptance. National Grid overcame these challenges by building its own stations and seeking out government funding opportunities to assist with the incremental costs of vehicles. To address resistance from vehicle operators, National Grid focused on training, promotion, and education for employees. Recognizing that driver acceptance is a community-wide issue, National Grid also increased its education efforts throughout the service area. In New York, for example, National Grid is working with CCCNY to give presentations touting the availability and benefits of NGVs and fueling infrastructure to the company's major commercial gas accounts.
Spreading the Word
National Grid is also using fueling station openings as opportunities to raise awareness and educate the community about alternative fuels. For example, National Grid used publicity for the fall 2011 opening of its Cicero, New York, CNG station – including emails, press releases, and billboards – to make drivers aware of the cost savings and environmental benefits of operating NGVs. At the station opening, BAF Technologies, Centro Bus Service, and Honda all displayed vehicles for stakeholders and guests to see.
"This collaboration between NYSERDA, Clean Cities, and National Grid is a model of a public-private partnership working for New York State and the environment," said Ed White, vice president of customer and business strategy at National Grid. "Projects such as this are exactly what National Grid is here to help make happen in Central New York and across New York State."
Through many years of leadership, collaboration, learning, and commitment, National Grid's alternative fuels program has resulted in benefits that include emissions reductions, cost savings, and strategic partnerships. National Grid plans to continue adding both CNG and liquefied natural gas vehicles to its fleet. National Grid also continues to look into potential customer offerings that could lead to more natural gas fueling station construction in the future.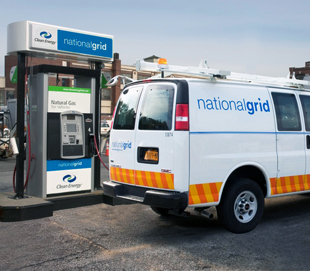 Fleet Type: Utility
Fuel: Compressed natural gas
Number of Natural Gas Vehicles in Fleet: 425
Infrastructure: 15 publicly accessible CNG stations
Motivations: Emissions reductions, energy security, cost savings