March 6, 2012
Leadership in CNG Propels Paper Transport Inc.
We're one of the first over-the-road trucking companies using CNG outside of California. And we have proven it can work.
Paper Transport Inc., a 350-truck regional freight company, takes pride in keeping a close eye on air quality. Among a number of steps to cut petroleum use and emissions, the Green Bay, Wisconsin, truckload carrier recently began a transition from diesel fuel to compressed natural gas.
Paper Transport Inc. (PTI) uses Interstate 43 to Chicago as its main shipping corridor, a route that includes a number of Wisconsin counties that have been listed by the U.S. Environmental Protection Agency
(EPA) as not meeting ozone standards. To show its support for the environment and cut greenhouse gas emissions, the company became a member of Wisconsin Clean Cities-Southeast Area (WCC-SEA) in 2010 and joined the EPA SmartWay program in 2007. PTI bought its first two compressed natural gas (CNG) trucks with its own funds in 2010. "There are three reasons to use natural gas," said Jeff Shefchik, president of the firm. "Because of the environment, the economics of it, and because it's an American fuel."
PTI participated in the Wisconsin Clean Transportation Program (WCTP), a four-year American Recovery and Reinvestment Act (ARRA) initiative begun in 2009 that aims to achieve significant reductions in fuel use and emissions in Wisconsin by supporting the increased use of alternative fuels and advanced vehicles. Jointly administered by WCC-SEA and the Wisconsin State Energy Office, the program selected PTI for an ARRA award of more than $500,000. In September 2010, the Green Bay firm was able to buy five Freightliner M2 tractors powered by Cummins Westport CNG engines. In March 2011, PTI requested funding for additional natural gas trucks through WCTP. The support came through, and by December 2011, the company added 10 more CNG trucks, using an ARRA award of $46,800 per truck. The trucks each travel about 100,000 miles per year.
"We like where the natural gas industry is headed," said Shefchik, who said that since first adding CNG trucks, "things have been going very well for us." The switch to CNG required very little training for PTI drivers, who quickly learned how to use CNG fueling dispensers and have become enthusiastic about the fuel's energy security benefits. Because PTI stores its vehicles outdoors and does not perform its own maintenance, the company did not need to make any facility modifications to accommodate CNG vehicles.
Overcoming Challenges
It did take some adjustments to fold the CNG-powered rigs into the business. The trucks in the fleet typically have a 500-mile range, which required PTI to add additional storage tank capacity on its new CNG trucks. Now they run with 115-gallon tanks, which enable them to make the 400-mile roundtrip run from Green Bay to the Windy City easily. Shefchik said the company also had to improve the fueling infrastructure. At first, drivers had to use a station designed for smaller vehicles, without sufficient compression for large rigs, resulting in slow fueling. In early 2012, PTI and a subsidiary of Integrys Transportation Fuels Inc. built a CNG fueling station in Green Bay that can accommodate vehicles with greater fuel storage capacity. The station is also open to the public.
Looking Ahead for Success
PTI stays abreast of the latest options for alternative fuels. It is testing two tractors with 11.9-liter prototype CNG engines produced by Cummins Westport. These engines, larger than the typical 8.9-liter engines, are a step forward, Shefchik said. They will allow trucks to handle steeper grades and overcome some limitations that the smaller engines have.
Ultimately, PTI is looking to convert its entire fleet to CNG. Currently, each standard diesel vehicle uses between 16,000 and 18,000 gallons of fuel per year. And with the equivalent CNG fuel being about $1-per-gallon cheaper, the savings add up. Even if a new CNG-powered truck is more expensive to buy than a regular rig, Shefchik predicts the company will receive payback over the life of a CNG truck--even without subsidies. By March 2012, PTI's CNG trucks had rolled some 1.5 million miles and displaced about 215,000 gallons of diesel while emitting lower levels of pollutants than conventional trucks do.
Spreading the Word
Because PTI is an active stakeholder in WCC-SEA, it has taken part in CNG events hosted by the Clean Cities coalition. The company has sent one of its CNG freightliners and a driver to make presentations on a number of occasions. By providing a strong endorsement of the alternative fuel, PTI has helped other drivers and firms understand CNG's benefits. In addition, Shefchik said he has answered calls from other vendors and firms who are seeking information about the fuel. "We're one of the first over-the-road trucking companies using CNG outside of California. And we have proven it can work," he said.
There is no doubt this is the way PTI wants to go. "We're absolute believers in natural gas," he said. In the next three to four years, the familiar red PTI trucks plying their routes in Wisconsin, Illinois, and other states may look the same--but they could all be powered by CNG.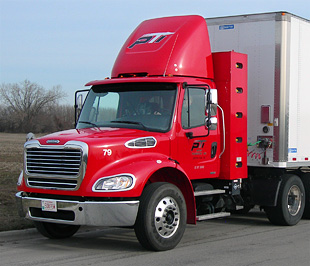 Fleet Type: Long-haul trucking
Fuel: Compressed natural gas
Number of Vehicles in Fleet: 350
Infrastructure: Publicly accessible CNG station
Motivations: Air quality, energy security, cost savings
Vehicle Miles on CNG: 1.5 million, as of March 2012
Petroleum Displacement: 215,000 gallons of diesel, as of March 2012