July 23, 2018
Smithtown Selects CNG to Cut Refuse Collection Costs
Smithtown expects to displace more than 1.5 million DGE of petroleum-based fuel.
Faced with rising refuse collection costs and fuel price uncertainty, the Town of Smithtown, New York, decided to require its refuse collection contractors to use compressed natural gas (CNG) trucks. It was the first New York municipality to institute such a requirement, with several others in the area following suit in the years since. On January 1, 2007, the 30 contractor-owned diesel refuse trucks collecting solid waste and recyclables from the town's 118,000 residents were replaced by 22 CNG models.
Smithtown's experience with the vehicles was so positive that, at the conclusion of the initial seven-year service contracts in 2013, the town again solicited bids for CNG fueled refuse collection services and entered into four new seven-year contracts through 2020.
To establish CNG fueling infrastructure in 2007, Smithtown partnered with natural gas supplier Clean Energy. With no leasing agreements, access fees, or capital outlay for Smithtown, the contract required Clean Energy to provide the fueling infrastructure and commission local service providers.
Because of Smithtown's new contract with the refuse collectors, Clean Energy had to complete the fueling station in six months - two to four months faster than it usually takes to locate a station, obtain permits, and secure a compressor. To accomplish this, Clean Energy received permission from the New York Department of Transportation (NYDOT) and Office of General Services to allow expansion of a nearby station, which Clean Energy already operated for New York State. Clean Energy expanded the station's volumetric gas flow rate from 15 scfm to 2,000 scfm and opened the station within four months.
In 2010, Smithtown partnered with Clean Energy and the Town of Huntington, New York, to open a new CNG fueling station at Smithtown's Kings Park recycling facility. Smithtown continues its long-term agreement on fuel pricing with Clean Energy. The pricing is based on the New York Mercantile Exchange commodity price of natural gas, plus a pipeline charge and a compression fee. The total CNG fuel cost for the refuse trucks started at $2.33 per diesel gallon equivalent (DGE) in 2007 and is only $2.36 per DGE in 2018.
"Even when petroleum prices drop, we are committed to CNG," explained Russell Barnett, Smithtown's environmental protection director. "We regard fuel price certainty as being just as important as the overall savings because petroleum prices can swing wildly in response to hurricanes and international events, wrecking municipal budgets."
The CNG refuse trucks were projected over the life of the initial contract to reduce emissions of nitrogen oxides by 265 tons and particulate matter by 15 tons. Smithtown also displaced more than 1.5 million DGE of petroleum-based fuel during the initial seven-year contract.
The town continues its commitment to CNG. Based on success with its residential refuse truck program, Smithtown added a CNG roll-off truck, CNG dump trucks, and CNG shuttle buses to its fleet.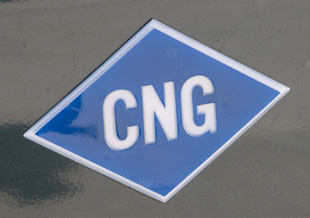 Fleet Type: Refuse collection
Fuel: Compressed natural gas (CNG)
Number of CNG Vehicles: 22
Motivation: Cost savings and fuel price certainty