April 14, 2017
Seattle's Waste Haulers are Going Green
Refuse haulers are competing to out-green one another in the Seattle area, where some of the region's largest municipalities are using contract levers to reduce petroleum use and vehicle emissions. In the Puget Sound region, most municipalities contract out waste-hauling services to private companies. This is the case in the cities of Seattle and Issaquah, both active members of the Western Washington Clean Cities Coalition (WWCCC). In 2008, Seattle required bidders for its waste-hauling contracts to demonstrate "cleaner than diesel" fuel use, in keeping with the city's sustainability plan.
Similarly, the City of Issaquah decided to incentivize bidders for its solid-waste collection to become certified Evergreen Fleets. Evergreen Fleets was a voluntary fleet-certification program created by WWCCC and the Puget Sound Clean Air Agency. The program assessed a fleet's "greenness," evaluating its performance in a suite of best practices that reduce petroleum consumption, lower emissions, and increase efficiency. Two leading waste-hauling companies in the Puget Sound region, Waste Management and CleanScapes, were the first two private fleets to achieve the Evergreen Fleet certification.
Together, Seattle and Issaquah are spurring a green revolution in Washington's waste-hauling industry. Eager to win the Seattle contract, both Waste Management and CleanScapes integrated compressed natural gas (CNG) vehicles into their fleets. They also began using biodiesel in their remaining diesel vehicles. The changes resulted in more than 2,000 metric tons per year of greenhouse gas emissions reductions.
Waste Management continues to rise to the challenge by growing their fleet to 360 CNG trucks and five CNG fueling stations, two of which are open to the public, in Washington. As a company with a solid commitment to sustainability, as of 2017 Waste Management has already invested $130 million regionally in CNG vehicles, CNG fueling infrastructure, and idle reduction practices. These measures helped the company garner recognition through Evergreen Fleets: Waste Management became the first private company and the first waste-hauling company to become certified. It also won the Issaquah contract. When CleanScapes got wind of the news, it quickly became the next private fleet to achieve certification.
The leadership of Seattle and Issaquah is creating a ripple effect as more municipalities recognize the benefits of using contract levers to reach sustainability goals. And the entire region is benefitting. Alternative fuel infrastructure is becoming more available, accessible, and affordable. As one example, Waste Management located one of its public CNG fueling facility half-way between downtown Seattle and Sea-Tac International Airport, allowing taxis and airport shuttles to take advantage of its fast-fill system.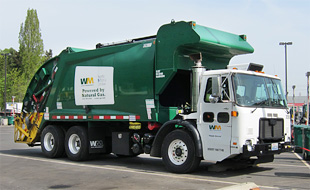 Fleet Type: Refuse collection
Fuel: CNG, biodiesel, idle reduction
Infrastructure: 2 CNG public stations
Number of CNG Trucks in Waste Management Fleet: 360
Motivation: Emissions reductions
Clean Cities Project: Puget Sound Clean Cities Coalition Petroleum Project