Oct. 13, 2016
Green Fueling Station Powers Fleets in Upstate New York
We've successfully reduced our carbon footprint, and the widely fluctuating price of oil doesn't challenge the fuel budget.
Upstate New York's Monroe County is embracing alternative fuels in a big way. The county's Green Alternative Fueling Station dispenses a variety of fuels--B20, E20, E85, compressed natural gas (CNG), and propane. "When you look at it, it's a pretty sight," said Melvin Rose, Monroe County fleet manager. Monroe County's entire fleet of vehicles, including those driven by workers at the county's public safety department, public works department, and airport, all use the station.
Monroe County began exploring alternative fuels decades ago. According to Rose, the county was always looking for ways to improve fleet operations and reduce emissions. And then in 2006, County Executive Maggie Brooks called on the fleet to accelerate its efforts. "It was to reduce our dependence on foreign oil--to go all out," Rose said.
As a result, the county diligently pursed various grants to fund multi-agency fueling infrastructure. Major support came from the American Recovery and Reinvestment Act (ARRA), the Voluntary Airport Low Emissions Program (VALE), the Congestion Mitigation and Air Quality Improvement Program (CMAQ), and the New York State Research and Development Authority. VALE provided funding for CNG infrastructure and dedicated CNG buses. A $92,000 ARRA award helped the county purchase four propane vehicles and a propane dispenser. The multi-agency Monroe County Green Alternative Fueling Station opened on Scottsville Road in 2008.
Also key to the project's success were several partner organizations, including the Rochester Institute of Technology, the General Motors (GM) Fuel Cell Research and Development Center, and the Genesee Region Clean Communities (GRCC) coalition. An agreement with 19 local municipalities allows partners to buy fuel at the Monroe County site, which helps create a ripple effect in alternative fuels deployment. The variety of fuels available multiplies fleets' options, broadening the audience of potential alternative fuel users. "We're not just talking the talk. We're doing it," Rose said. "And we aren't stopping."
Overcoming Challenges
As with any project, success required some advance planning, hard work, and problem solving. "We've faced a few hurdles along the way--meeting strict grant writing deadlines was our toughest challenge," said Rose. The county also had to educate taxpayers about its proposals, showing that the incremental costs of alternative fuel vehicles would eventually yield a return on investment.
Vehicle operator education was another early challenge. "We had to show them that these are safe motor fuels, which helped calm any anxious feelings," Rose said. It didn't hurt to point out that propane is the third-most-used motor fuel in the United States. In addition, the county pursued training for its technicians, who needed new skills and tools to keep the alternative fuel fleet in top form. Professional instructors from the automakers came to the Monroe County facilities to share their knowledge with county employees, who in turn will pass that information along to other county technicians. The county also reached out to first responders. In one workshop for firefighters and emergency medical personnel, the county partnered with a team from GM's nearby Honeoye Falls Fuel Cell Facility.
With workers, managers, technicians, and first responders all up to speed, the county is leaving conventional vehicles in its rear-view mirror. The county ensures that each new vehicle purchased is available in an alternative fuel version. For some applications, the fleet only considers models with E85 capability. For others, it selects vehicles that have option codes for hardened exhaust valves and valve seats to allow for conversions to CNG or propane operation. As of 2016, the county has completed a total of 35 CNG and propane vehicle conversions. In addition, they have worked closely with vendors to overcome any obstacles in vehicle purchasing, and plan to add six new hybrid electric vehicles to their fleet in 2016 with the help of a CMAQ grant.
Cold weather has proven not to be an obstacle, despite the region's reputation for severe winters. Rose said the county's Michigan-based propane vehicle vendor has been dedicated to ensuring smooth operation at all temperatures. Likewise, Rose said, the fleet's CNG vehicles remain reliable even when the mercury takes a dive.
Reaping the Benefits
Rose said that all the hard work on grant applications, training, and planning continues to pay off. First, there are significant cost savings: Diesel fuel can cost up to $1.50 more per gallon-equivalent than some of the alternative fuels the county uses. The environment has benefitted too. "We've successfully reduced our carbon footprint, and the widely fluctuating price of oil doesn't challenge the fuel budget," Rose said.
Encouraged by the results, Monroe County and the City of Rochester, New York, joined forces on a successful application for a second CMAQ grant, which will help upgrade the county's VanLare Treatment Plant fueling station, near Lake Ontario. In addition, the city upgraded the station at its fleet facility on Mt. Read Boulevard in 2013. This additional station offers biodiesel, E85, CNG, and propane and provides both the county and the city with access to multi-fuel stations across a wider geographic area, complementing the original Green Alternative Fueling Station. "Partnering up with the city allows us to overcome the range anxiety of drivers in alternative fuel vehicles traveling throughout Monroe County and surrounding areas," Rose said.
An Example for Others to Follow
Monroe County has garnered high praise for its vision of environmental stewardship, according to GRCC Coordinator David Keefe. The county has been spotlighted for its work, and has earned several awards from Government Fleet magazine, which bases its selections on fleet composition and utilization, fuel usage and emissions, future planning, and education and support programs.
"We were very proud to receive the Green Government Fleet Award in 2011 -we ranked as the second best government green fleet in North America," said Rose, adding that in the two previous years, they landed among the nation's 100 best fleets.
Rose and other county representatives have been active in speaking with other fleet managers and appearing at public events to spread the word about alternative fuels. In recent years, the staff has participated in Clean Cities events, outreach initiatives to local universities and colleges, Earth Day presentations, alternative fuel expos, and national conferences in Las Vegas and Wisconsin.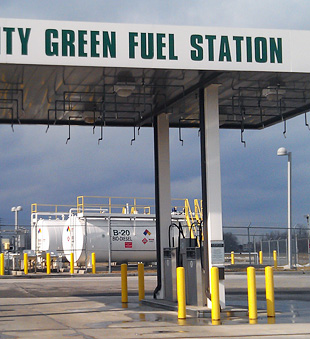 Fuels: Biodiesel, ethanol, compressed natural gas, and propane
Number of Vehicles in County Fleet: 1,100
CNG Vehicles: Six 12-passenger shuttle buses
Flex-Fuel Vehicles: 148
Propane Vehicles: Three light-duty trucks, one van, and two 12-passenger shuttle buses
Hybrid Electric Vehicles: 17, plus 6 planned for 2016
Motivations: Cost savings, air quality, energy security