April 18, 2019
Compressed Natural Gas Fuels Houston's Resiliency
When the power went out, our generator went on and the CNG never ran out. Our supply to the station was not interrupted and natural gas flowed through the underground pipe network without interruption.
When Houston's roads were under water due to unprecedented flooding from Hurricane Harvey in August of 2017, gasoline and diesel could not be delivered or dispensed. In the absence of conventional fuel, Texas' vast network of natural gas infrastructure allowed for uninterrupted compressed natural gas (CNG) fuel supply and local transit bus operation.
Local Infrastructure Keeps Buses Running
Because natural gas is supplied by underground pipelines, Houston-area CNG stations, including Freedom CNG's stations, could remain operational in the aftermath of the storm. Many CNG stations are also equipped with generators, meaning that even without electrical power, the station's compressors can function. It was because of these fully functioning CNG fueling stations during and following the storm that the Metropolitan Transit Authority of Harris County (METRO) was able to run its CNG transit buses without a hitch.
"Over 11,000 natural gas transit buses operate throughout major cities in the United States, a clear proof of concept that natural gas transit buses are reliable," said Eddie Murray, who leads Business Development & Operations for Freedom CNG.
During emergency response efforts, transit agencies play a critical role in evacuations and other transportation. Before, during, and after Harvey, METRO transported 10,000 people to emergency shelters and assisted the Red Cross in moving supplies. Texas' convenient access to an abundance of CNG played a role in METRO's emergency response efforts.
"Before landfall, METRO, along with emergency management officials, closely monitored the situation," said Andrew DeCandis, Houston-Galveston Clean Cities coordinator. "Following its emergency plan, METRO was able to pre-position buses to save them from flooding, prepare facilities, and stock them with supplies for overnight stays and sheltering."
Tried-and-True Technology
Along with improving local air quality, one of the key reasons METRO decided to add CNG to its fleet hinged on bolstering emergency preparedness operations. Today, METRO's fleet of 1,200 transit buses has grown to include more than 50 buses powered by CNG.
"Hurricane Harvey put METRO's decision to use CNG buses to the test," Murray said. "When the power went out, our generator went on and the CNG never ran out. Our supply to the station was not interrupted and natural gas flowed through the underground pipe network without interruption."
Since 2015, METRO's 50 CNG transit buses have driven more than 8.5 million miles and saved 2.5 million gallons of diesel in Houston. As a result, METRO has saved money on fuel and maintenance while reducing harmful emissions.
CNG not only fueled METRO transit buses during and after the storm, but also Houston Distributing trucks, Waste Corporation refuse trucks, AT&T service vehicles, and many other fleets. The combined availability of these fleets proved extremely effective to the city's combined emergency response efforts during Hurricane Harvey.
Texans Helping Texans
Houston-Galveston Clean Cities coalition played a key role in making CNG available to METRO from the start. By tapping Congestion Mitigation and Air Quality (CMAQ) funds, the coalition aided the transit authority in building state-of-the-art CNG infrastructure and emergency backup facilities.
"As with any great partnership, the secret is coming together whenever challenges arise," said DeCandis. "Maintaining strong relationships with key stakeholders such as METRO, CenterPoint Energy [the natural gas utility], and providers like Freedom CNG is one of the most important roles for the Houston-Galveston Clean Cities coalition."
In the future, the coalition and its partners plan to capitalize on its strong partnership, applying lessons learned during the last natural disaster to put more alternative fuel vehicles on the road. As a start, METRO is planning to add nearly two dozen more CNG transit buses to its fleet.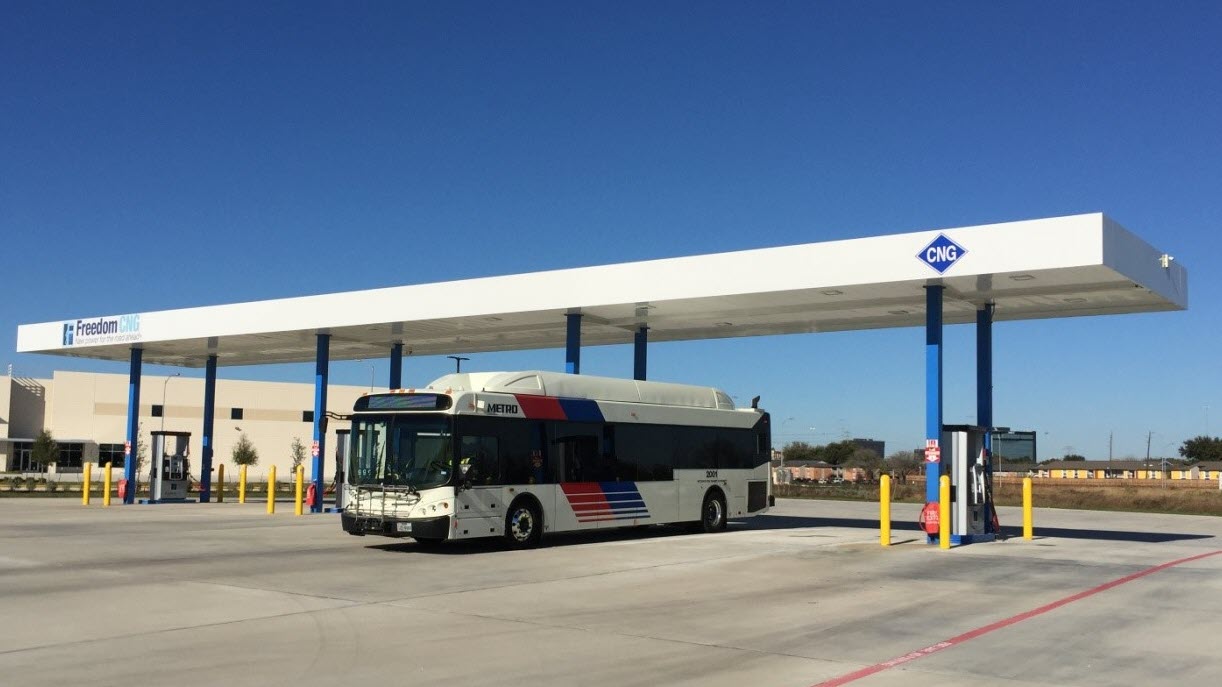 Fleet Type: Metropolitan Transit Authority
Fuel: CNG
Vehicles: 50 CNG transit buses, with near-future plans to add 24 more buses
Motivations: Emergency and natural disaster response efforts