Maps and Data - Vehicle Weight Classes & Categories
Find maps and charts showing transportation data and trends related to alternative fuels and vehicles.
OR
Vehicles: AFVs and HEVs

BioFuels Atlas

BioFuels Atlas is an interactive map for comparing biomass feedstocks and biofuels by location. This tool helps users select from and apply biomass data layers to a map, as well as query and download biofuels and feedstock data. The state zoom function summarizes state energy use and infrastructure for traditional and bioenergy power, fuels, and resources. The tool also calculates the biofuels potential for a given area. BioFuels Atlas was developed by the National Renewable Energy Laboratory with funding from the DOE Biomass Program.

View Image

TransAtlas

TransAtlas is an interactive map that uses a Google Maps interface to display: Existing and planned alternative fueling stations Alternative fuel production facilities Light-duty vehicle density Roads and political boundaries Users can customize the map display and print and query the underlying data. TransAtlas is part of a suite of geographic analysis tools for renewable energy developed at the National Renewable Energy Laboratory.

View Image

Vehicles: Fuel Consumption and Efficiency
Vehicle Weight Classes & Categories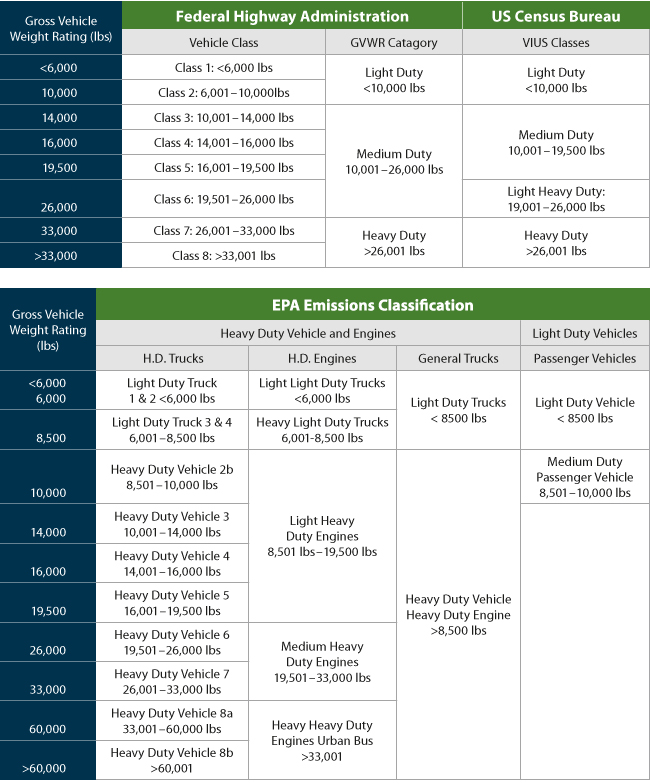 These charts illustrate the vehicle weight classes and categories used by the Federal Highway Administration (FHWA), the U.S. Census Bureau, and the U.S. Environmental Protection Agency (EPA). The vehicle weight classes are defined by FHWA and are used consistently throughout the industry. These classes, 1 -8, are based on gross vehicle weight rating (GVWR), the maximum weight of the vehicle, as specified by the manufacturer. GVWR includes total vehicle weight plus fluids, passengers, and cargo. FHWA categorizes vehicles as Light Duty (Class 1-2), Medium Duty (Class 3-6), and Heavy Duty (Class 7-8). EPA defines vehicle categories, also by GVWR, for the purposes of emissions and fuel economy certification. EPA classifies vehicles as Light Duty (GVWR < 8,500 lb) or Heavy Duty (GVWR > 8,501 lb). Within the Heavy-Duty class, there is a Medium Heavy Duty Diesel Engine class for engine-only certification, but no Medium-Duty Vehicle class. The September 2011 U.S. Department of Transportation (DOT)/EPA rulemaking on
Greenhouse Gas Emissions Standards and Fuel Efficiency Standards for Medium- and Heavy-Duty Engines and Vehicles
uses categories and weights for Heavy-Duty Vehicle Classes 2b through 8, similar to the FHWA weight classes.
Print